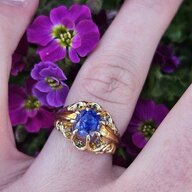 Joined

Apr 13, 2018
Messages

1,624
Hello Ladies & very few Gentlemen!
Its been a while since I've created a thread for any of my purchases or projects
as It's so much easier to just lazily post one or two images on another thread but I thought
that this ring deserved its own little corner of the internet!
After perusing Ebay for a few weeks & shockingly not finding anything that really spoke to me I was
lucky enough to run into this baby!
She is an antique piece, the seller purchased her in France but suspects that it was a hand fabricated piece that
had been made in England comprised of 14k yellow gold, a natural blue sapphire, & two rose-cut diamonds.
The center sapphire has a luscious tiny table & high crown,
does anyone know if it would be considered an old mine cut sapphire?
If anyone has any knowledge about this please do comment!
I know that old mine cuts are central to diamonds but have been known to have been cut
into other stones as well.
Anyways, the sapphire is approx. 5mm which is flanked by two round 3mm rose-cut diamonds. All stones are held in these beautiful
antique style baskets which I adore & are hugged by tiny claw prongs.
The stones are original to the piece & are just so yummy!
It doesn't look as if the seller cleaned the piece at all, as it looks a bit gunky with oily finger print galore so I'm excited
to get her home & give her a good bath & scrub!
Here are the vendor photos but I will have to update this thread with my own when she arrives!
I've become such a sucker for antique pieces lately, not that I wasn't before but It's definitely risen
to the forefront of my jewelry searches lately!
It was shipped off today & is making its way from CA to the US as we speak!