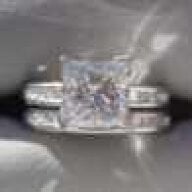 Joined

Apr 20, 2006
Messages

1,130
Okay so here is my original post
https://www.pricescope.com/community/threads/photoshop-help-please.53005/
with photoshoped photos, curteousy of pricescope who was kind enough to show me what an upgrade on my center stone would look like.
My e-ring is currently approx. 4mm in width, I have found another similar band that is approx. 3mm in width.
So my question is....
Is there a noticible difference between the two sizes and could you possible *show* me what that would look like with both the current diamond that I have now, and what it would look like with the upgraded size as well, there are hand shots in the linked post, as well as a close up...
Thank you so so much! Everyone on here is always so nice and helpful, thank you!
ETA: Sorry I couldn't figure out how to post the awesome photoshoped pictures from the other post....