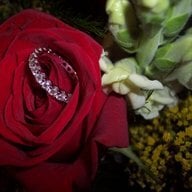 Joined

Dec 18, 2007
Messages

3,793
I have gone dress shopping a few times before, and i posted some pics - overwhelmingly, the vote was for the Phillipa (maggie sottero), but when i went back to try it on again, i was bothered by the fact that i think it would be impossible to sit down in it since it''s so fitted. If you want to see the old thread, look here:
https://www.pricescope.com/community/threads/dress-shopping-with-pics.99229/
This time, my mom went with me... I was astounded at how different someone could look in one dress to another - some really made me look thinner and some REALLY DID NOT

. Here''s the thing - out of these dresses i am going to post, i really liked a couple of them. My favorite dress was out of my price range, so i wanted to get your opinions to make sure it''s not so much better i must cave in and get it - FYI, i think i still have a few shopping trips left before we choose.
Opinions would be greatly appreciated...thanks so much!