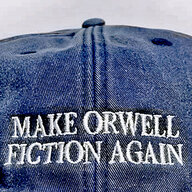 Joined

Apr 30, 2005
Messages

29,133
I just don't have the energy to post/argue/battle much.

That 47% of US voters chose Trump after all he's said and done means there truly may be no hope for America.

The only light at the end of the tunnel that I see is Trump will, of course, fail to "Make America Great Again".
He just said all that shit to con gullible low-IQ people so he could get the ultimate ego-power-job.
It worked.

But in 4 years what the F will be left of America ... yea the world?

I don't think I'm being Debbie Downer.
I think I'm being accurate.

It's just all so depressing.