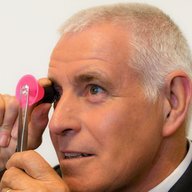 Joined

Aug 15, 2000
Messages

18,059
Dear all,
Sometimes I note that people assume the AGS grades on graphs listed on HCA and in other charts from AGS are that - gradings.
They are not.
AGS uses a 3 D scan of a the actual diamond and ray tracing software they developed after the lines of DiamCalc and the 1990''s MSU studies.
The charts from AGS are for the use of cutters to know the safe proportions to get AGS 0. There is some lee way however and if everything is very tight in the sym dept, and any painting digging works with those particular proportions - then stones can be outside those boundaries and still pass the AGS PGS software testing.
Our friend Iiro from Finland sent me this example recently.
So AGS give a parametric guide line to cutters. This differes from GIA and HCA - which are dumb and only work from the paramters as measured by a scanner. GIA do make some allowances for minor facets - but it effects a few stones in a hundred, and I am told the same is true for the grade lowering because of painting or digging. GIA have no way to actually ''measure'' minor or brillianteering effects on optical performance - we were told this at the last Vegas GIA presentation - there is no actual attempt to have a human lookk at a diamond to decide if it is a good one or a baddy.
This is one of the typical major short comings of 4C''s grading of all sorts - the labs rules are skewed to repeatability rather than common sense. It is one reason for example that I like the IGI color grading approach - a well cut round border line J/K could be looked at face up and the grader might upgrade it to K, where-as a radiant would be dropped. This is probably one reason why IGI is seens as softer on color, but it is an attempt to use some common sense.