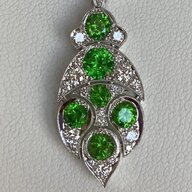 Joined

Jul 3, 2012
Messages

329
Fair warning: I'm in a verbose mood, LOL. This adventure started with my purchasing some preloved IDJ earring jackets (3 point melee; made for 0.50/5mm center stones). Initially I'd planned to wear the jackets primarily with colored stones and pearls, because I had never owned any real diamond studs (just CZs).
Soon after getting them, however, I decided I wanted some real diamond studs to wear with them. I'm a big fan of bezels - my engagement ring is a Ritani Endless Love style - so I contacted IDJ to see about having some bezel studs made that would fit my earring jackets. They did a beautiful job sourcing the diamonds and setting them into platinum bezel settings. Because my jackets were made for 0.50/5mm stones (each), I was able to go down in size a little to 0.33/4.5mm stones (each) and still have them fit well because the bezel setting took up the remaining space.
At some point I saw Cellentani's beautiful pendant that she'd had made from a modified IDJ earring jacket and decided I'd like to do the same, but again with the bezel modification. This is her's:
I contacted IDJ about the project, but although they were helpful, I felt like they were perhaps too busy to keep up with communication well, and their price came in way higher than I'd imagined it would be, so I started looking at different options. I knew that they sourced the earring jackets from Adwar Casting, so I went digging through Adwar's catalog and found that Adwar makes a pendant with a bail to match the earring jackets, so instead of needing to modify an earring jacket in 2 ways (adding a bezel + attaching a permanent chain), I'd only need to have someone remove the prongs for the center stone and replace it with a bezel for me. Searches on PS revealed that Michael Edgett was known to work with Adwar's products and he seemed to have great reviews, so I approached him with my idea. Original pendant:
To be Continued...