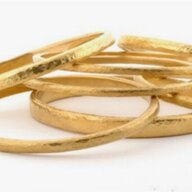 Joined

Jan 26, 2003
Messages

20,773
diamondseeker2006 said:

Wow, Deb, that is indeed amazing! That is not something I'll ever encounter, though, because almost all the birthparents in China are unknown since it is technically illegal to give up your child. Such irony. But in a way, it just makes it easier to know that that door is closed. Anna is 15 and has never given much thought to her birthparents at all. I, however, do think of her birthmother especially near Anna's birthday and wish she could know how beautiful and precious and dearly loved her child is.

Our adoption was considered final in China so we didn't have to do anything when we arrived back in the US. Of course, that was right before the tax credit so we didn't have any timing issues for that anyway!
Actually, we had some things in common in the way we adopted, diamondseeker! We had thought that the road to
our
daughter's ever finding her birth mother was closed, too!
Like yours, our adoption was finalized in the country from which we adopted our daughter, in our case, Colombia, before we ever brought our daughter home to the United States. There were some strange days when she was legally our daughter but was a Colombian citizen who needed to get her Colombian passport and visa in order to leave the country and enter the United States with us. She was naturalized as a US citizen by the time she was four months old. Now the law no longer makes infants adopted to US citiens go through the naturalization process!
But back to why I thought we would never face the issue of our daughter finding her birth mother: there was no Internet. The birth mother had never been given our names. We had the name of the birth mother, but that was only because we needed access to the original birth certificate, not because we had any interaction with her. Only we and our daughter (not the birth mother) would ever have legal access to the original and the revised birth certificates. So there was no way that the birth mother could be expected to find us.
With no Internet, it seemed highly unlikely that our daughter would be travelling to a country torn by guerilla warfare and drug warfare like Colombia to try to trace a young woman (her birth mother) who had been from the country and gone to the capital only to give birth, who had probably married and moved and who did not speak the same language as my daughter!
The Internet-and Facebook-brought the world a little closer together, however!
Deb/AGBF