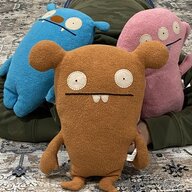 Joined

Oct 24, 2012
Messages

9,234
Not 'discounting' the WC diamond (but FYI

@ALRAAA

if you really do want to buy THAT exact diamond on WC, might as well

go to B2C and save another $1K

) but there are several other factors not noted that are not being considered beyond "both are D color VS2 clarity diamonds".

1) GIA rounds diamond parameters, whereas AGS (I believe) does not. So while - per the GIA report - the WC diamond scores a 1.1 on HCA and its GIA report notes specs that are in ideal

range

, that does not mean it

is

an ideal (or super-ideal) cut diamond, which the CBI is. So again, while I might not personally kick it out of bed, I cannot - in my mind - put it on the same level as the CBI without true apples-to-apples data to compare in order to say "yes, these two diamonds are on the exact same level playing field and there is a true, significant price discrepancy". But to

@msop04

point, not everyone

needs

a super-ideal/ideal cut diamond. Some folks are perfectly happy with & love their GIA XXX diamonds (some of which are likely in the ideal range), and that is perfectly fine.

2) The value proposition of the vendor offering the diamond. This is another factor that weighs into the purchase price (the benefits you get from the vendor), which MANY on here place a significant value on. None of this may matter to you, but for a diamond purchase in this price range, it surely should bear due consideration.

- Ask WC (or B2C) if they offer the 80% lifetime buyback policy, if their trade-up policy is as customer-friendly/flexible as HPD (it's not, I promise). So if/when you decide to upgrade that diamond for an anniversary down the road - assuming the vendor is still in business - prepare to spend probably twice the original price with them to upgrade, if they even have an upgrade policy.

- And to the point of vendor longevity ... do you know how long that vendor has been in business? How reputable are they? Is their business model sustainable that they stand a good chance of being in business when you're ready to leverage that upgrade policy? Any chance they have/are affiliated with shady industry practices? Note: I am

NOT

suggesting WC or B2C are, but after the recent "Enchanted Diamonds" debacle, I would be VERY cautious about

any

dealer I buy from and give my money to ...

especially

when we're talking these sorts of budgets!

Okay, so the business checks out & generally seems 'okay' ...

- In a time crunch at all? See how long it takes them to provide you with additional imaging (if they even provide it) so you can assess light performance, decide, and show the intended recipient those pretty hearts & arrows. HPD diamond images (not 'in production') are readily available to you up front; no waiting.

- What, they don't provide images at all? Well surely they will send you a loupe, ASET & Ideal scopes free of charge so you can assess the diamond yourself in person and have full confidence in your decision. What, they don't/won't? Guess who does ...

- Got the ASET/IS images from the vendor and they check out okay? Great, place your order & wait to see if that diamond is actually even available several days

after

you pay for it (virtual inventory diamonds are frequently already sold, and the vendors listing them do not always update their websites in a timely manner to let you know this). And if it's not already sold, see how long it takes you to get that diamond in hand if it's not literally in that vendor's hands at that moment. It's probably coming from overseas, which can take a week or more to get to them depending on what holidays are observed in that country, any customs issues, etc., then they have to inspect/QC it, and send it to you. Not the case for CBIs from what I've read from HPD buyers on here.

- Got the diamond? Love it? Great, now consider the quality of the custom setting that vendor makes for you, if they can produce those sexy claw prongs you crave, or do they possess the skill necessary to create a micropave setting that doesn't ditch diamonds every time you wash your hands. Also, be sure to inquire about their benchwork warranty.

- Got the diamond? Don't love it? Well,

hopefully

their return process is at no cost to you, and your payment is quickly refunded/returned after they receive & inspect the diamond. So you can get on with starting your search alllllllll over again.

OP - It's your money. You worked for it, you know what you want/need, what your priorities are (or perhaps still working those out), what you're comfortable with, and hopefully what the intended recipient wants/likes, etc. None of us can nor should tell you any of those things. What we can tell you is what we have individually experienced with vendors, what others (like you) have come on here and asked about or experienced (and point you to those threads), help you know what to look for in a good diamond, help you to learn to read the images provided by vendors, the differences between various labs & their reports, and we can tell you that when considering a diamond purchase, there is more to factor in than just the "four Cs" and the price tag. That's what I've tried to do above. At the end of the day, none of those things may matter to you, and that is a-okay; but at least I feel like I've done my part to suggest important considerations you might factor into your decision when you write the check/swipe the card/wire the funds.
Needs to be a sticky.