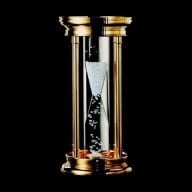 Joined

Nov 6, 2006
Messages

2,398
Date:

1/29/2007 11:58:08 PM

Author:

Garry H (Cut Nut)

Starreyeyed if you look here you will see the world still runs on rd and pr

http://idexonline.com/Diamond_Index_Drivers.asp

Emerald (inc asschers) make a very small showing.

Of course the answer relies on 2 things:

1. better fancy shapes - even better than rounds for some uses and viewing conditions would help a lot - and we dont have then just yet

2. democratic grading systems - eg a princess that is ideal should be ideal in comparison to a round that is ideal - and we dont have that yet

Our little Cut Group hopes to change that within a few years. We are playing with the first stones from our small Master Stone Study - the first 2 are in my pocket.

The first step will be Sergey's new DiamCalc 3.0 with a professional package option for new cut design.
Quite the pioneer there Garry! Will you tell us a little more about what's in your pocket?

Or at least the Master Stone Study?
Thanks for the IDEX link - fascinating! The methodology indicates that this Index reflects the 15 leading diamond categories, and that these 15 comprise about 45% of the market. Perhaps a silly question, but what's in the other 55%?
I understand what you are saying, emerald cuts don't make a signficant showing. Question though, what is the explanation for this huge jump in the Driver Index for 5+ carat emeralds back in July 2006?