Joined

Mar 23, 2013
Messages

2,545
Forewarning- this will be a bit of a story. Photos will follow, of course.
This is probably my longest running project. I have always loved a ring that featured an old cut oval, in an emerald halo, which the owner calls Gilda purchased from Jewels by Grace. If you "know" Gilda, you get it. Gilda has a fan club.
This is Gilda, if you don't know her. Hey, Gilda!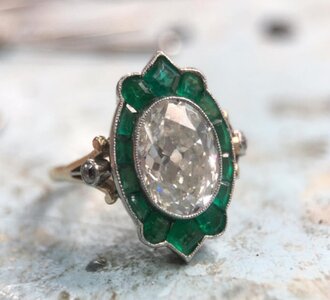 Gilda is perfect, to me. I have never seen another ring quite like it and I have looked.
I had in the back of my mind, that a setting could be made to look like it, one day. Finding a larger antique oval though, that is truly antique and not newly cut, is a very hard task though. So, in summer of 2019- yes, 2019, I purchased a loose old mine cut without knowing how I'd set it. My preference is for an old mine cut/early cushion the majority of the time.
I purchased this stone: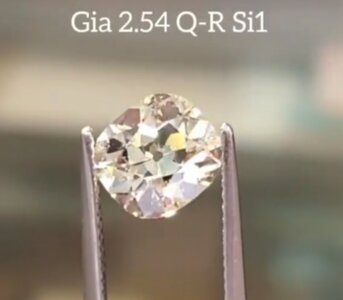 In the photo, you really don't get an idea of how it looks or performs. It may be a Q/R, but it's a really white facing Q/R, in my view. It is a chunky stone with very lively facets.
I noticed that Sako had done a version of Gilda with emeralds and a rose cut diamond, as well as supersize fat emeralds. So, I reached out to him to discuss it and see if he'd be agreeable to working with my stone, what a rough budget would be and his process. He's my go to now. He's excellent at his craft and he's a good person- it is fun to work with him and talk to him. We started the talks on this in fall of 2019.
The ring arrived today. I think it was worth the wait. The craftsmanship of the pieces he and his dad make or refurbish is really top notch. I'm spoiled, I guess, because I have a few of them.
The original design had emeralds, obviously! Emeralds are more fragile. I have an antique calibre emerald ring and I can see the wear that happens on them. I see the wear that happens even on emeralds that are worn regularly that are not 100 years old. I opted to ask about ruby instead. My thought also was that because my stone does have a tint, that the yellow/green would pick up the tint, whereas a blue/red would mask it. I think it does and that idea was successful.
Here is the setting, after casting. It is platinum and 18kt yellow gold.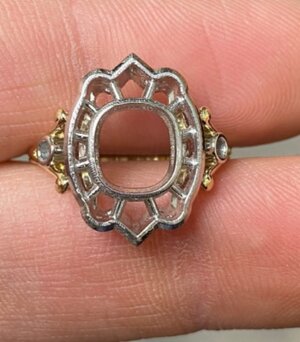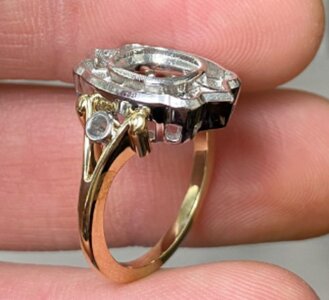 As part of the project, Sako had to find rubies that were going to be suitable to recut intro french cuts, as well as met my budget and color preferences. Big ask and he did an excellent job.
He found a parcel that ticked the boxes and the plan was for his dad to cut each individual stone to fit the halo, and at the same time, refacet to french cuts. The level of skill to have those pieces fit perfectly into the frame, and also match colorwise, after recutting, is one that I don't think many have. There was waste with the project, due to stones either chipping after being set, or after a recut, they simply did not match well enough.
Here is what we started with, before the stones were recut: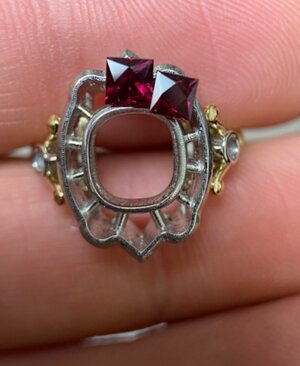 I wanted red rubies. Not pink, not garnet, not pink/purple, not purple/brown/red. Red. But, at a certain budget. Sako and dad- they are magic.
Here is a photo of the process of the initial setting of the stones.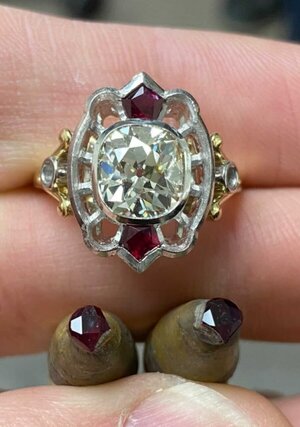 To be continued...