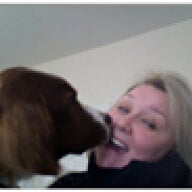 Joined

Jan 5, 2009
Messages

2,655
at the moment, i''m having my engagement ring re-set with larger side stones, i''m having a gold band remade from my original wedding band, james meyer is making me a new platinum wedding band, and we''re talking about having a ring of my mother''s reset for our 25th anniversary in september....
BUT!
i''ve been waiting. and waiting. and looking at all your new beautiful rings....
and i decided i needed INSTANT GRATIFICATION!
so i bid on this little ring as something to pass the time. i umm''d and ahh''d about which forum to put this in, since it does have pearls in it, but decided that the sapphires were predominant, and that this was the place for rings. so here we are...