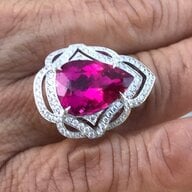 Joined

Dec 26, 2017
Messages

1,489
After many long months DW's quest for her 40th wedding anniversary upgrade is finally over. It was the beautiful and talented Amy Phillips at David Klass who found it for us! Amy knew we were looking for an OEC as David had been helping us with our search. She was meeting with one of her Jeweler customers and discovered he had just gotten in a 5ct OEC, so she grabbed it for us!
The OEC was 5.22ct and had just about everything DW was looking for in an OEC, except a visible flower petal pattern under the table. The diamond was pretty beat up with chips on the girdle, and a number of bruises on the crown facets. In talking with David he felt one of his diamond cutter friends would be able to take care of these issues for us while making sure the weight didn't fall below 5.0ct. This actually turned into quite an adventure for DW as David and his cutter allowed us to follow along in person thru each cutting stage of the rehab as her diamond was restored to its former glory. There were a few twists and turns along the way particularly when we got to the flower petal pattern, but I won't bore you with them now. The end result was fantastic, and at 5.05ct with a clearly visible flower petal pattern, all our expectations were exceeded. Needless to say DW is in love!

That first time we saw our OEC, David took us upstairs to meet one of his diamond cutter friends. He kindly put the stone on his Sarine and ran a report for us. These Sarine scans are a miracle of modern science, and we were able to keep a scan copy after each stage of the rehab process. I can share more about this later if anyone is interested. Here's that original scan.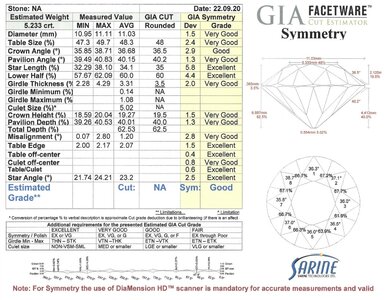 I had read that old cuts were not as precise as today's diamonds, but I didn't expect almost 3 degrees variation in crown angle and 1.4 deg in the pavilion!!! If you take a close look at the facet diagram you will see some of the table corners don't meet. It looks like someone had polished the top off this stone sometime in the past, likely to remove table chips. This can be seen on my "before" photo that also shows the girdle chip at 6:00 with another flea bite at 1:00.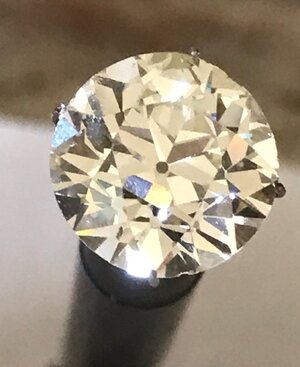 Despite its wonky proportions this OEC was incredibly beautiful. Back in the day the craftsman who cut it by eye sure as heck knew what he was doing! We considered not touching it, but David said we definitely needed to stabilize the wafer thin girdle. We decided to go ahead with the rehab, but make sure we left all that wonderful wonkiness in place.
On the day the rehab was finished I was able to take a rather poor video. We had to retreat to a dark corner of David's office because this diamond sparkles and reflects so much light it's unbelievable. I checked later and with its 36.5, 40.2 proportions our OEC scores 1.4 on the HCA.

Amy had a photo taken before she sent the diamond to GIA. Note the corner table Kozibe at 11:00. With the right light, and at a certain angle, I can sometimes see a Kozibe reflection in all eight bezel facets, but for the life of me I cannot capture them in a photo.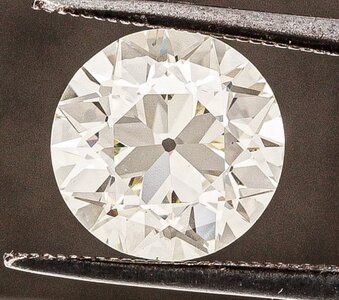 I had read that OECs can pick up colors from their surroundings and this one is no exception. I have not been able to take a photo that doesn't pick up color. Here are a few "colorful" hand shots.