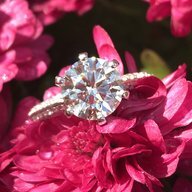 Joined

Oct 3, 2018
Messages

587
Omg the ring-dant!! That is soooo beautiful but agree with others re: the bail. It looks lovely as a ring or as a pendant. Hopefully you can get David to make you something that is more convertible so your mum can get more wear out of this lovely piece.

It sounds great your experience with Alex. He is so honest and his prices are very reasonable. I am glad that he is doing everything he can to ensure you and your mum are satisfied

Enjoy the ring! Maybe you and your mum can share
Yes Alex agreed to help fix it. He is great!
We do share our jewelry, but this is more her style. I still feel I don't earn my status to have such a dream ring/ or feeling too young to be able to enjoy such an amazing ring... my mom like to go all out with her bling, but when she saw it, she was like " I didn't imagine it to be this BIG!"
I will have my YZ 6.5ct radiant from David soon tho. I opted for a more simple solitaire and 3 stone design.