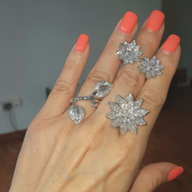 Joined

Oct 5, 2006
Messages

9,956
Hello all,
I've found this secondhand 7ct asscher. I don't know much about asschers and can read up. In the meantime, I'd really appreciate some advice and input.
There's not much information on the stone (it does NOT come with a GIA or AGS or HRD cert or anything like that, only an in-house appraisal), though I'm trying to get as much infor as possible for the vendor. The vendor is a reputable vendor. They have told me that:
1) the stone is approx G-H colour
2) clarity is estimated to be Si2 (I'm trying to ask vendor if this has taken into account the chip or is it just based on the "typical" inclusions like crystals, clouds etc). This chip is under one of the sides and can be seen quite clearly from the first pic. I don't know if this chip can be polished out or not.
3) it looks to me like it's an old cut (slightly larger culet), though that may not necessarily be the case - am just making a wild guess.
Is there anything that jumps out at you? In particular, do you think a chip like this can be polished out, without endangering the stone/ causing it to crack or chip further?
What kind of cut do you think it is? I mean, what kind of Asscher is it; and also, judging from the pics, might you be able to decipher its optical performance?
Finally, the price is approx $70k. Is it a fair "value" - just based on the infor here? Would it be possible to impute such a value? If not, what other information do I need to ask the vendor?
Thanks very much.