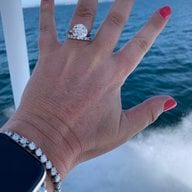 Joined

Jan 16, 2007
Messages

107
Please join me in congratulating miimac7 on this amazing addition to her collection, and for being the JOTW!

https://www.pricescope.com/blog/sensational-7-ct-eternity-ring-jotw
Wow! Thanks!!!
Whiteflash
really deserves the credit here
They did an outstanding job
Whoa! That is gorgeous. How big is the band you wear with your engagement ring?
My eternity band that I wear with my engagement ring is the band my husband presented to be at our wedding so I will not upgrade that (to me it's more special than the e-ring). The eternity band is 2ct (20 x .10pt) and is from facets collection. The ring is very well made and I've been wearing it 24/7 for almost 12 years with no major problems. I do take it off for the really big stuff like moving, yard work etc (why risk it). I take the ring in every 1-2 years for a "check up" and "deep clean." I clean the ring weekly in ultrasonic and every few days with a pen style jewelry cleaner. The
Whiteflash
setting seems just as sturdy so I'm hoping the maintenance on this new band will be the same. I will not be wearing this new eternity as much because of my job
.