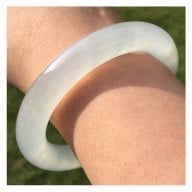 Joined

May 1, 2009
Messages

3,606
It's not like I buy rings all the time but it so happened that my regular jeweller have new ring settings from his casings supplier and if the (loose) gem fits...
So that's 4 of them along with 2 preloved and another that I bought ready made online. And that makes 7 rings that I set, received and/or resized in the past week.
As for the panda, I'll go into that a little later...
But anyway I always like to see pics of the said item when I open threads so here they are. Not doing any slow reveal or anything. But will need a bit more time to post each of them one by one later.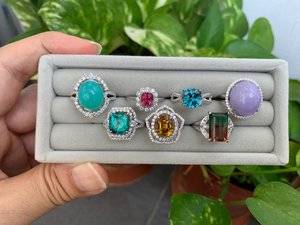 Top from left to right: Peruvian opal, spinel, zircon, jadeite
Bottom: neon tourmaline, yellow tourmaline, parti-coloured tourmaline
(Yeah I like blue gems, and big rings, and halos...)
All pics taken with iPhone which seems to amp up blues and intensify the color a bit. Some of the gems also seem to confuse the phone and gives my skin a greyish tone so really not so easy to take photos (appreciating those PS-ers with mad photography skills)