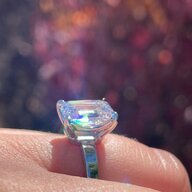 Joined

Apr 9, 2016
Messages

278
Hi! Sooo, I definitely never dreamed of owning a 4ct stone and it's been a bit of a bumpy road to get here (for which I primarily blame Pricescope -- too many enticing shiny options!!), but I just received this gorgeous EC from Jonathan over at August Vintage and had to share it here!
Some quick backstory - as some of you know from my thread in the preloved section, I originally wanted a cushion for my upgrade but I went about that purchase the wrong way

and had to put it up for sale. I thought I could be happy with just stacking bands, but after months of not having an e-ring I realized that definitely wasn't going to do it for me. In the meantime, I spent way too much time admiring all of the diamonds on here and kept coming back to all of the stunning emerald cuts. I was really lucky to get an unexpectedly big bonus this year, and so I started doing some searching and came across an EC that seemed like a really amazing value, all things considered. I presented my case to my husband and somehow got him to agree!!
4.02ct
H color
SI1
Depth: 66.3%
Table: 60%
Excellent polish
VG symmetry
Medium fluor
10.98 x 7.39 x 4.9
Approx. $35K
I had always planned to use
@Rhino
's new concierge service if I ever got to upgrade again, and so I asked him if he could get this diamond and give me his complete assessment on cut, any clarity issues, color, and any fluor issues. Below is a link to the diamond and Jonathan's full review; all of his analysis was incredibly helpful, and it was especially important to get his opinion on the light performance. The ASET would have worried me on its own, but I know Jon has analyzed countless ECs, and I trusted his conclusion that this was a beautiful stone.
https://www.augustvintageinc.com/products/4-02ct-h-si1-emerald-cut-diamond
And I was not disappointed when the diamond arrived!! My first thought was this is AMAZING and it truly is; it is incredibly bright and lively, I love it in every lighting condition I've been in thus far, the fluor definitely makes it appear whiter than other GIA H diamonds I've seen, it is totally eyeclean, and it never gets that dark obstruction across the belly. I know that $35K is A LOT of money, but I definitely feel like I lucked out to get something at the 4ct mark for this price. And I hate paying for clarity and high color, I prefer the longer L:W ratios and skinny facets, and don't mind fluor at all. So in short, this EC is perfect for me and I'm really thankful for all of Jonathan's help -- especially during the crazy holiday season! Anyone looking for a fancy cut should definitely take advantage of all of Jon's expertise!!
Haven't had a chance to take very many pics yet and these aren't very good, but here are a few! (The stone holder is really, really high so these pictures make it look much bigger than it actually is - although I'm not complaining, it is big!)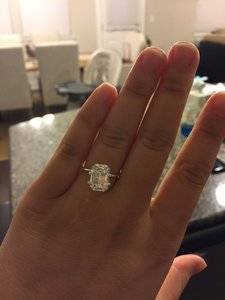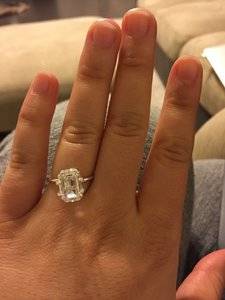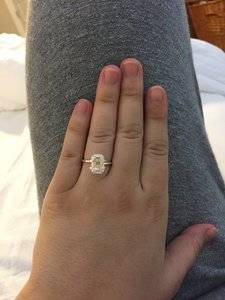 Oh yeah and p.s. that I still need to sell this cushion haha. In a perfect world I would get to keep both, so maybe if I get a good bonus next year....
https://www.jewelsbygrace.com/3-00ct-cushion-cut-diamond-gia-f-vs2
Last edited: