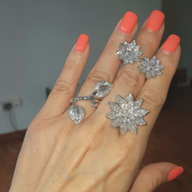 Joined

Oct 5, 2006
Messages

9,927
LOL, I bet you never thought you'd hear that from me!!
I received my 3-stone ring from LM last week but was so busy with the move, so didn't get a chance to post. My old camera died but I will try and get a new one some time this week to take pics. The ring is beautiful (as expected, since it's a LM), and the diamonds are *amazing*, esp the
BGD
"blue", which is absolutely is MAGNIFICENT. It's very white and sparkles like crazy.
Well, there's a problem with the ring: the sidestones are
just a little
too big!
I know I know, some of you tried to warn me about it, esp Diamondseeker. The centre stone is a 2.374ct G Si1 "blue" and the sides are GIA-certed 1.55ct F Si1 and 1.52ct G Si1. It's supposed to be a RHR, size 4 1/4. I'm wearing it on my LH which is 3 3/4-3 7/8 (since the ring is rather tight), and the sidestones hang off the sides of my finger, and I expect they'd hang off the sides of my RH finger too. I will need to downgrade these two stones to a smaller size and am trying to determine which is the *right* size. I mean I love more finger coverage rather than less and don't want to go down to less than one carat each. I'd love to get another two "blues" of G colour, Si1 or VS2 clarity (depending on availability) to match the centre stone.
So is there any way I can determine which would be the right size for my sidestones? Am thinking different possibilities, including just over 1ct, 1.15ct or 1.20ct,
each.
What do you think? All suggestions are welcome.