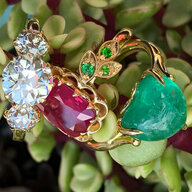 Joined

Oct 19, 2013
Messages

3,719
Same three diamonds went from custom-modified 'Butterflies' (in my avatar) to the sleek & sexy Sholdt 3-stone semi-bezel in platinum. The sides seem larger/have more presence in this setting than they did in the previous one, but I'm just elated to no longer catch prongs on my clothes & hair … this is such a comfortable wearable ring, I absolutely love it!
Both versions are gorgeous, but oh these sleek semi bezels are wonderful!
I'm sorry if this is intrusive - but coming from one who has had/will have interest in the same setting you had- can you elaborate if it was snagging vs lint catching? If snagging- was it an option to have the vendor address it?
I get it if there were more reasons to wanting the switch than just this, but am truly curious.