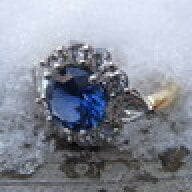 Joined

Nov 4, 2007
Messages

3,336
I thought I'd start us a thread. 3-stone rings seem to be a bit less 'popular' than the large door-knocker solitaires (though there's nothing wrong with those, either!!)...so I thought maybe some of you would enjoy playing in this sandbox with me...
Here is mine....it currently resides on my engagement finger, as my sapphire engagement ring from 21 years ago is lost....until we get another one made up, this one was given to my by my Sweetie to keep my ring finger warm.
2ct RB centre, 2 x 1/2 ct RB sides. All 3 are H in colour, VS1 (centre stone) VS2 (side stones) White gold head, yellow gold shank (my wedding ring is yellow, so this gives me a few options).
(When I lost my sapphire, I also lost my RH ring which was my wedding gift: a 5-stone 2ctw eternity ring - so I guess this 3-stone is a replacement for that one!).
The hope is to travel to M. Khordipour with pics of my sapphire to have a new one made up. Then I shall feel complete.
Gotta love it. I think I've finally figured out the macro setting on my camera, so maybe I can upload some pics.