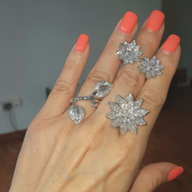 Joined

Oct 5, 2006
Messages

9,927
Hello all,
I have been considering this diamond from
WF
and am about to make my final decision and would appreciate your opinions and any help you can offer:


http://www.whiteflash.com/hearts_arrows/A-Cut-Above-H-A-cut-diamond-71343.htm
#
I''ve contacted
WF
and Lesley has assured me the feathers (particularly the one on the girdle) do not affect the durability of the stone, and the crystals are white and not black carbon spots.
I have a few questions:
1) Do you think I should go for it? Those of you who have purchased from
WF
(Harriet, SLK, and more), are you completely happy? both with the diamonds as well as your experience with them? It appears that they have a stellar reputation but would still like to hear directly from those of you who have dealt with them.
2) Those of you who have upgraded with
WF
, what has the process been like? Any hassle (eg. in terms of sourcing for a new stone, returning the old one etc.)? I am thinking of upgrading for a whiter and/ or slightly bigger stone in the future, maybe in one year''s time.
3) Those of you who have had your setting done with
WF
, are you completely happy?
4) Woud the colour I bother me? I know that this is a difficult question to answer as it is very subjective, but am wondering for those of you who have bought (or rejected) an I or J with
WF
, does the cut
ACA
really help with the stone face-up and how about if you view it sideways , ie. from the pavilion (which I know no-one really does except the owner of the stone)? Does the tint bother you?
5) I''m thinking of sending the stone to Dave Atlas for an indpendent appraisal. It is best that I do this directly with Dave, right? as then he''d be acting for me, the client. And would it be worth it to pay the extra $100 for him to use the SAS2000 on the stone? (I understand it costs $150 to do a "normal" appraisal and $250 to do it with the SAS2000).
6) On a completely different stone, ie. the one below, would I be better off going for something like this? I''d then get the whiter colour, F and the stone woudl look bigger. But I don''t know very much about the cut of ovals, would this one have a bow-tie effect? (I''ve not asked
WF
about this yet, but those of you who know a lot about ovals, eg. SKR, woudl appreciate your opinion).
http://www.whiteflash.com/oval/Oval-cut-diamond-100738.htm
All comments and suggestions are welcome.
Thank you.
Lien