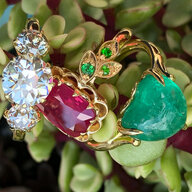 Joined

Oct 19, 2013
Messages

1,980
I found an Etsy artist who works with MoP and says he can probably have it done in 2 weeks. Fast! We will see how this goes.

Even if I get it in the next 3 weeks I probably won't be able to reset it until covid passes and my local jeweler is back. I didn't feel comfortable shipping this diamond out to a small independent jeweler I don't have any experience with ..
have you thought about the possibility of them doing something convertible? Like the MOP part is removable so you can still wear RG part on your wrist or by itself on a chain?
Have no clue of the logistics tho!