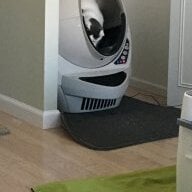 Joined

Jul 27, 2011
Messages

6,584
I thought I was done with diamonds for the year. I assumed the marquise ring would be it. So, I figured, what's the harm with playing with search engines and looking at videos of big honkers?


.
I was really having a jolly ol' time looking at INTERESTING diamonds like THIS below - chunky arrows anyone?
https://www.jamesallen.com/loose-diamonds/round-cut/3.02-carat-i-color-si2-clarity-good-cut-sku-366680
And then... i saw... an SI-2, that looked promising. SO CLEAN! the poo-poo is on the sides! Are you a horny diamond?
Are you a unicorn?
https://www.jamesallen.com/loose-diamonds/round-cut/3.03-carat-i-color-si2-clarity-excellent-cut-sku-993441
I clicked on the on-line chat - "diamond inspection" button. We went over the picture of the diamond, and the
JA
rep circled some stuff on the picture that could be potential issues, pulled up the GIA report, and said the diamond was out of the country, then he said it was in the US but not in NY. Damn this diamond travels more than I DO!
Ultimately, I decided that I need a more personal touch with my diamond purchases - I need someone I can repeatedly harass, I MEAN follow up with on a consistent basis. I need someone who will cradle the diamond in his/her hands and whisper to it, "preccccious..." So, I've gone back to
IDJ
and asked them to call the diamond in!!!! It's got a higher crown, hoping the images won't show leakage!
So far, I've run it through HCA - under 2, and indicated as an FIC. I think that means it will be FIREY! I understand that the diamond is supposed to be eye clean from all sides. I'm excited. At the same time, I'm scared... my poor skinny wallet...

And I'm so used to fluorescence - it's like my band-aid. What if this I looks like ol' yeller?

My friend started adding up the 2016 ctw of purchases and I told her to stop because it was making me sick...