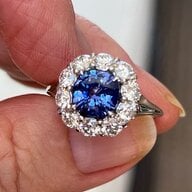 Joined

Aug 18, 2013
Messages

8,666
Hi
@leighton1984
- and welcome to Pricescope.
I've been buying diamonds for decades now, and became a
Blue Nile
customer almost as soon as they went public. So I've done dozens and dozens of purchases with them.
Here's my best advice....
You're being flooded with info here. More than you can possibly process and not all of it useful. You're also clearly not sure about the diamond you bought, but you want to keep whichever diamond you settle on forever. So you're stuck.
I'd return the diamond you have and find out what's REALLY important to you. Color gets more obvious the larger a diamond is, so you'll definitely see tint in an I colored 3 ct stone, and this is a big purchase that needs to hold up to both time and scrutiny. So this may not be the way forward for you. Or it may. But you DON'T KNOW yet, and it's way too much money to spend on a purchase you haven't adequately researched.
So - just to address a few comments....
Victor Canera
is a small, independent retailer, who carries a limited selection of perfectly cut diamonds in his workshop. If you want to learn about color and clarity and what you like, that's not the place to go.
The stats on the diamond you bought are not 'super ideal' as we understand them on PriceScope, but they might be to your taste. As yet, you don't know.
Clarity can vary hugely, but, like color, inclusions are more obvious in larger stones like yours. I have a VS diamond and can see the inclusions. I've had SI - or even more included - stones where I couldn't. Sometimes you'll see the inclusions in one SI stone...but not in another. Don't assume you can drop clarity and not see the difference.
And what size is your finger? How important is size to you? Have you decided on a setting? Halos, for example, are wonderful at disguising tint. They're also fabulous at disguising small drops or increases in size. Would you be better to go down to a 2.75ct stone, for example, putting it in a halo, and upping the color?
If you're SURE you'll never upgrade, then
BN
might be the place for you. But if there's ANY CHANCE you might in the future, then a company like
WhiteFlash
will be a better option for you, where you can upgrade without penalty.
And most of all - let's take this more slowly. At the moment you've got too many voices in your head using too much jargon. So, were it me, I'd return the diamond, come back, get a glass of wine, relax, come back to Pricescope and let's do this again.
I wish you well!
ETA
Blue Nile
regularly has 3ct I colored diamonds. I used to own a beauty from them - which was, just by the way, super ideal in its cut. So if you return the one you have, pls don' be concerned the opportunity for something similar won't come around again. It will.