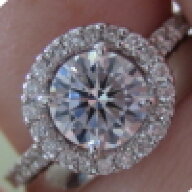 Joined

Sep 26, 2007
Messages

56
2Danes, I''m changing my setting to the Danhov ME29 and I had a few quick questions for you (or anyone else that has one) if that''s ok.

1. Does your stone touch your finger often?
2. Do you find that your stone gets dirty more quickly than in your old setting?
3. Can you post some larger pictures? I''m dying to see the detail work of it!

I''m so excited! I really hope that you see this, and thanks so much in advance!