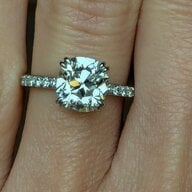 Joined

Jan 21, 2006
Messages

10,589
Hi everyone,
I've had a hard time deciding between two settings for my replacement engagement ring. I was debating between the ME30 and ME31 danhov settings. I just really wanted to see them in person so I gave them a call. Shant answered my call and I made an appointment to come in to their office. They don't have a formal showroom, so it was very sweet of him and the Danhov crew to take them time out of their workday to show me some settings.
Their work is utterly amazing, declicious, delicate, and well-made.



.
I haven't decided for sure, but I think I'm going with the ME30!!!