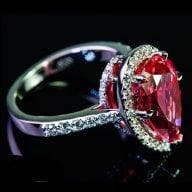 Joined

Apr 22, 2004
Messages

38,181
Hopefully, that got some of your attention.

The real question is should I get it? I''ve been drooling over asscher cut coloured stones for a while and thought about getting one when I saw the AGTA pink spinel asschers. Then, I saw some awesome spessartite on this cutter''s website and I asked him if he had any rough available that might be suitable for such a cut. He had lots but only 1 was suitable.
The problem is the colour. What do you think of bi-coloured stones? I have some bi-coloured gemstones but not this large. He''s guessing the final weight is about 2 carats. This spess is 1/2 reddish orange and 1/2 bright orange, which is rather unusual. It sounds interesting but I''m wondering if people who see it might think it is zoning instead or something like that. How does being a bi-colour affect its cost and value? Will a bi-colour asscher look odd? I''ve only seen solid coloured asscher cuts. Can anyone even photoshop this to help me get a better visual?