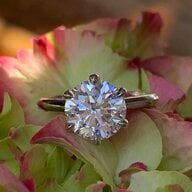 Joined

Dec 9, 2018
Messages

1,153
A comment for whoever looking at this thread in the future and doing research for H color:

Does H color show tint?
For me, the only true colorless which is icy white is D&E color, I noticed tint from F color. So of course, H color will show some tint. However, everyone have different level of comfortability (if its even a word) and different level of acceptance regarding how warm can one go. The only way to find out is seeing it yourself in real life and be your own judge of which color you can accept and didn't get bothered by the tint.
Agree,
@munchee
. I say I'm more color- tolerant. H is a happy place for me. It's near colorless enough for me. I would not go lower than H though. That's my line of color tolerance
. Would I love to have an E Or F? You betcha! But my pocket wouldn't like it. Hahaha. Enjoy your beauty!!!