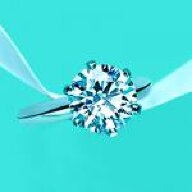 Joined

Apr 18, 2009
Messages

145
Dear all,
I have been wanting to get an emerald-cut solitaire for many many many years.

I love the clean, minimalistic look of step cuts as they are totally different from brilliant cut diamonds. Hence one day during a random search through Pricescope and I found one that made me took the plunge. It feels like falling in love!!

I contacted Wonder Jewelers as they were the first and fastest to respond to me, thus that got the ball rolling. They were extremely patient with me

I was virtually chatting with them all the time on the live chat. They are professional and I am very pleased with their responses.

Here are the stats.
Carat : 2.7ct
Color : L
Clarity : VS1
Cut : Very good
Symmetry: Very good
Polish : Excellent
Dimension: 9.78 x 6.7
Depth : 62.5%
Table : 59%
I wonder if the stats are okay? I am not a step cut expert and will wait till the diamond gets shipped to me and I will see it in person to decide. However, from the pictures and videos provided to me, I am happy with the way it looks.
For now, it is in temporary two-tone setting, white gold prongs and yellow gold band. I have asked them to thin out the bands and make the edges rounded. Here are that Wonder Jewelers pictures sent me. I will be making more adjustments before they ship it over to me. I will request to make the band more rounded and the prongs to be pointed. What do you all think?

I believe the ring is not sized to my ring size yet.
I am still thinking of a new setting for it. I do love the look of a plain solitaire and thus I went on with the simplest setting available. I am now trying to get more inspiration for my reset. I am thinking of doing a halo or with side baguettes.
Here are some inspiration pictures.


A summary of my inspiration

Now I have to wait for it to ship over to me