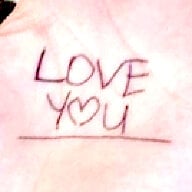 Joined

Sep 23, 2011
Messages

5,303
Re: 0.39 ct Fancy Yellow Radiant Halo Ring- THANKS PS & LEIB
bright ice|1370542737|3460269 said:

Congratulations, it's beautiful! I'm very proud for you and glad that I got to meet you at the GTG.
Glad to have met you and your amazing collection, too! I really hope to see you again next year
This time, hopefully, with another ring in tow!
Dee*Jay said:

It's a beautiful ring and I'm just THRILLED that you won it! Wear it in good health!
Oh deejay, I'm so sorry I didn't get a chance to talk to you MORE! I remember when I first bumped in to you, I got so excited, saw your boyfriend next to you and wanted to say "This must be Mr. (enter city here)!", but I froze and forgot what city he's from! LOL!!! I also hope to see you again next year
diamondseeker2006 said:

I was SO excited when you won this!!!

And it obviously was meant for you since it actually fit!!! How amazing was that?!
Yeah, I think it was definitely meant to be
I used telepathy to tell Leibish & Co to size it to my size, then "made" my number be called. Hah!!!. Really though, it worked out so well! I don't even have to pay $ and waste a drive to get it resized. And when I lose weight (I really do want to!) it will fit perfectly on my right hand! PERFECT.
AGBF said:

It is

really

beautiful,

madelise

. It was fun to see it with other fancy yellow stones, too! I guess you acquired it in just the right place at just the right time...where there would be other people with complementary stones right next to you to help frame your new ring in photos! And I can't believe it fit right out of the box! I guess it was meant to be!

Hugs,

Deb
Deb, those were my roommates'! I felt like I joined the cool girls club