By
Erika Winters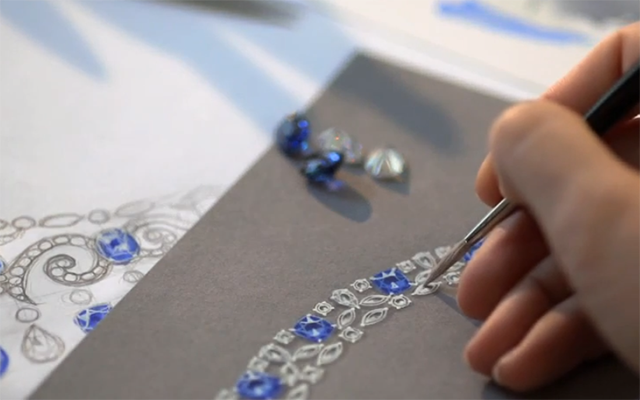 Masters of Dreams explores 13 jewelry brands in a stunning documentary. Image: A designer for Graff works on a necklace with diamonds and sapphires.
If you haven't seen Masters of Dreams, a stunning documentary featuring 13 renowned jewelers, you're in for a treat. The film explores the brands' histories and the unique design techniques used to create their luxurious jewels. Through design, the jewelers continue to evolve while expressing their "brand DNA" and the heritage and artistry of their companies.
The documentary is divided into four one-hour episodes showcasing the arts of jewelers by region as follows:
Episode 1: The Italian Jewelers • Bulgari, Buccellati, and Damiani
Episode 2: The French & Swiss Jewelers • Boucheron, Chaumet, and Chopard
Episode 3: The English & South African Jewelers • Graff Diamonds, Stephen Webster, De Beers Jewellery, and Forevermark
Episode 4: The Jewelers of the Americas • John Hardy, H. Stern, and Verdura
The documentary's intimate look into the jewelers' design and manufacturing processes is especially striking. H. Stern, for example, begins by developing concepts. In turn, these are developed into designs that are set with diamonds and gems sourced after the sketches are completed. By contrast, Bulgari draws inspiration from the gems themselves and builds the concept from gem to rendering. Each house is essentially a world unto itself, and its methods are as innovative as its finished jewels.
Masters of Dreams also showcases stunning events from 2011 and 2012 including a fascinating inside look at Christie's auction of Elizabeth Taylor's jewelry collection. The film shows Amanda Triossi, head of Bulgari's vintage department, and Lucia Silvestri, director of precious stone purchasing at Bulgari, at Christie's bidding on Elizabeth Taylor's Bulgari emerald jewels and the famed sapphire sautoir for Bulgari's 2012 "125 Years of Italian Significance" retrospective in Shanghai.
In addition to Christie's auction of Elizabeth Taylor's jewels and Bulgari's Shanghai retrospective, Masters of Dreams highlights the 65th annual Cannes Film Festival, London's 2012 Masterpiece Fair, and the 2012 Biennale des Antiquares in Paris.
Visit the film's website and Facebook page to learn more, and do watch the Masters of Dreams promo below. The documentary is a must for any jewelry library!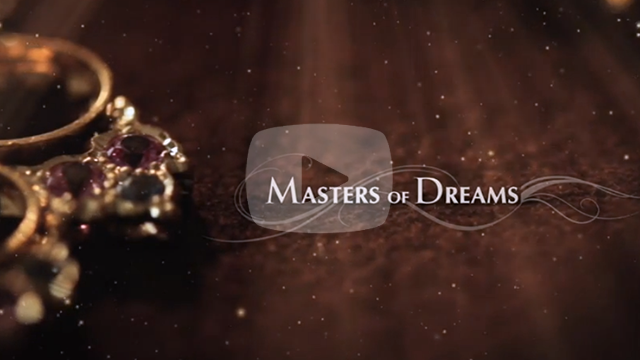 Watch the Masters of Dreams promo. Video requires Flash. Watch at YouTube.
Related Blog Topics:
Video: Graff's Half-Billion Dollar "Hair & Jewel" Campaign
The Art of Bulgari: La Dolce Vita & Beyond, 1950–1990