By
Erika Winters
If you haven't already, I recommend adding Tiffany & Co.'s Tumblr, From Out of the Blue, to your blogroll. Launched last November, the blog highlights Tiffany's history and artistry with stunning images, videos, and notes on the creation of some of the company's most spectacular jewels. And for those who love jewelry design renderings, Tiffany's Tumblr includes sketches, so you can see the jewels from start to finish–with final images of notable pieces on models. One of the most stunning images is of the Tiffany Anniversary Morganite necklace (below) shown to scale on British model, Karen Elson.
From red-carpet jewelry looks to vintage ads and images from the archives, the company's new Tumblr provides an elegant and intimate look into the world of Tiffany.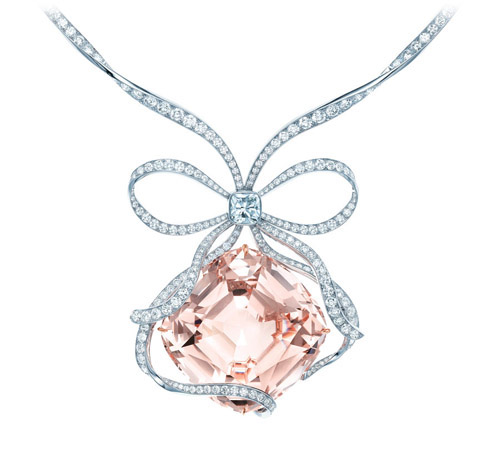 The Tiffany Anniversary Morganite necklace features a cushion-shaped 175.72-carat morganite surrounded by a diamond bow with a 2-carat Tiffany Novo diamond at the center.
Related Blog Topics:
Tiffany's 175th Anniversary Tanzanite Jewels for December

Tiffany & Co. Unveils New Setting for The Tiffany Diamond