This year Tiffany & Co. celebrates its 175th anniversary with new collections showcasing rare, colored gemstones that pay tribute to the company's history. Included in Tiffany's Jewels of a Magnificent Legacy collections are statement pieces featuring tanzanite, one of December's birthstones and a gem variety named by Tiffany.
The unique blue-violet colored gems were originally discovered in 1967 by a Masai tribesman in Tanzania's Merelani area near Mount Kilimanjaro. Originally thought to be sapphires, the gems fascinated a prospector who registered claims in the area to unearth more of the vividly colored crystals. As interest grew in this new gem, a transparent blue variety of the species zoisite, top gemologists flocked to the area. And in 1968, the gem had a new name courtesy of Tiffany: "tanzanite."
By introducing tanzanite to the market, Tiffany & Co. promoted the gem's captivating color and allure. The finest tanzanites are an intense blue or violetish-blue, and Tiffany's 175th anniversary jewels showcase them in custom creations.
"The story of how these gemstones were discovered and introduced is truly inspiring," said Jon King, executive vice president of Tiffany & Co. "Our 175th anniversary is the perfect occasion to celebrate our heritage by showcasing these exquisite stones in one-of-a-kind jewels, which so perfectly reflect Tiffany's brilliant design legacy."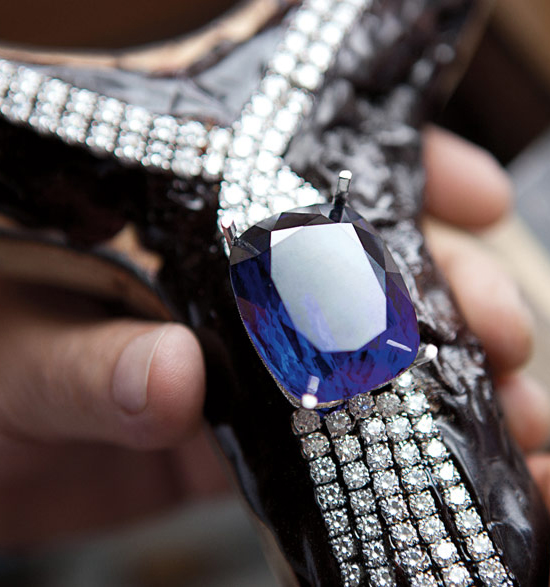 The Tiffany Anniversary Tanzanite necklace prior to setting • Photo: Tiffany & Co.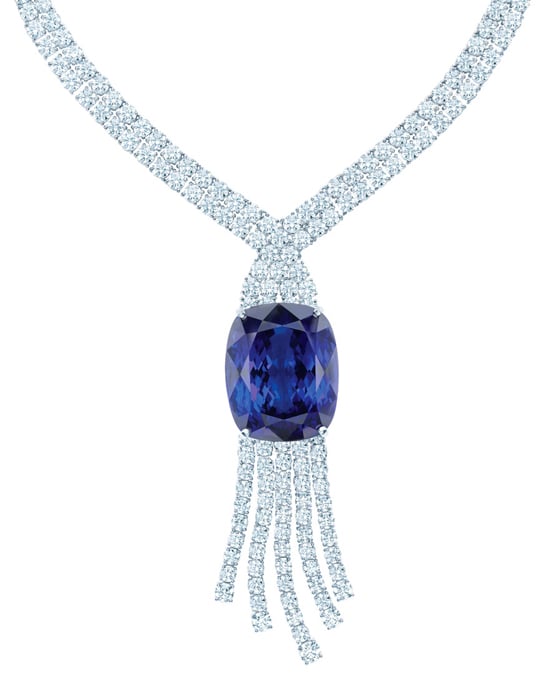 Tiffany Anniversary Tanzanite necklace with tanzanite of over 175 carats, set with a cascade of brilliant-cut round diamonds in platinum • Photo: Tiffany & Co.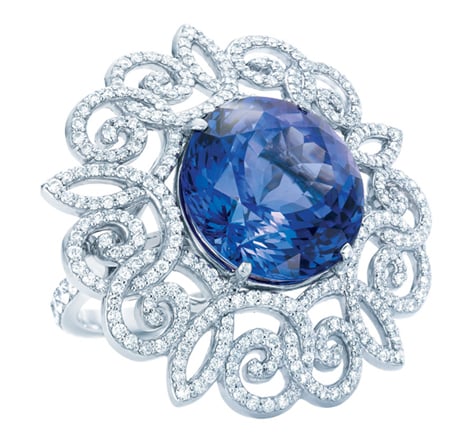 Tiffany tanzanite ring with 9.99-carat tanzanite and diamonds set in platinum • Photo: Tiffany & Co.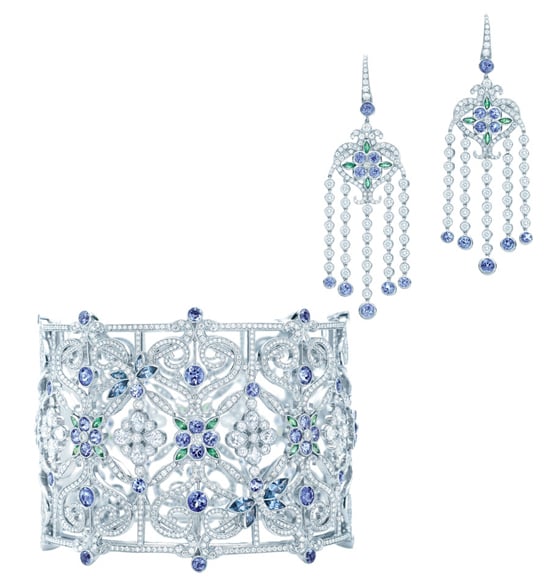 Tiffany Garden bracelet and Enchant earrings with diamonds, tanzanites, and tsavorite garnets in platinum • Photo: Tiffany & Co.
Related Blog Topics:
Tiffany & Co. Unveils New Setting for The Tiffany Diamond
Jewel of the Week – Tiffany & Co. Solitaire Engagement Ring