By Erika W.
Tiffany & Co. has unveiled a new diamond setting for the legendary Tiffany Diamond in celebration of the company's 175th anniversary. The 128.54 carat antique cushion-cut yellow diamond is now set in a platinum necklace featuring 20 Lucida® and 58 brilliant-cut diamonds, which total over 120 carats. The Tiffany Diamond is held in an intricate setting with a sunray motif–designed with an additional 481 diamonds. (Close-up shown in the Tiffany video below)
"Resetting the Tiffany Diamond represents a commitment to the future and design innovation," said Jon King, executive vice president of Tiffany & Co. "The diamond is the most important gemstone in the world and honors the vision of our founder, whose acquisition of the stone established Tiffany's diamond heritage."
The new necklace, which took over one year to create, will be featured in anniversary events in Tokyo, Beijing, and Dubai before returning to New York to be viewed on the main floor of Tiffany's Fifth Avenue flagship store.
Previous settings for the Tiffany Diamond include Jean Schlumberger's "Ribbon Rosette" necklace to promote the 1961 film, Breakfast at Tiffany's and Schlumberger's "Bird on a Rock" setting for the designer's 1995 retrospective at the Musée des Arts Décoratifs in Paris. Visit Tiffany & Co. to learn more about the Tiffany Diamond's history.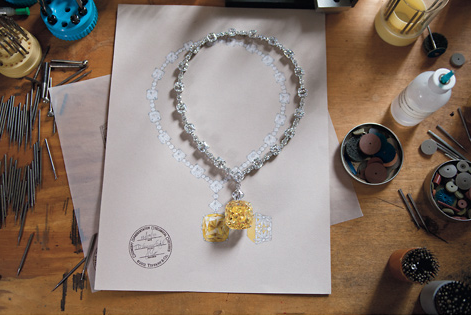 Photo: Tiffany & Co.
The Tiffany Diamond and final sketch of the new necklace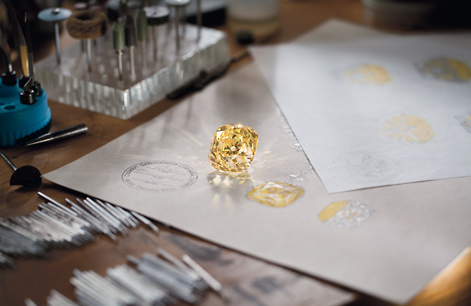 Photo: Tiffany & Co.
The 128.54 carat Tiffany Diamond (shown with sketches of the mounting) originated from a 287.42 carat rough stone, which was discovered in South Africa in 1877. The cushion-cut fancy yellow diamond measures over one inch wide by seven-eighths of an inch in length.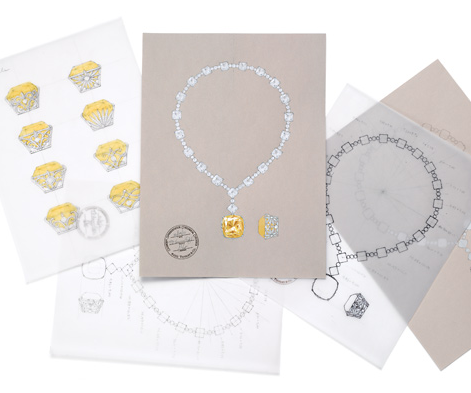 Photo: Tiffany & Co.
Sketches for the Tiffany Diamond's new setting
Tiffany & Co. video of the Tiffany Diamond's legacy and new setting
Related Topics:
Jewel of the Week – Tiffany Novo