PS Welcome - YouTube
All about PriceScope
Wed, 25 Apr 2012
Gems & Gemology Launches Free iPad App
H1:
Gems & Gemology Launches Free iPad App
By
Erika W.
GIA's quarterly journal, Gems & Gemology, has launched an iPad app, which is available for free on iTunes. The app will reach a broader audience by presenting the latest gemological information to iPad users in addition to exclusive content--including gem-related videos and expert interviews. G&G's Spring 2012 issue is the first available on the app. The issue features a recent emerald deposit discovery in northern Brazil, a review of the durability of coated cubic zirconia, and coverage of the Tucson gem show. The issue also includes the "G&G Challenge" quiz for readers to test their gemological knowledge.

"Research on peer-reviewed journals shows that those available electronically have the potential to significantly increase their impact," said Donna Baker, president and CEO of GIA. "By reaching a broader readership, we can have a greater influence on the field of gemology."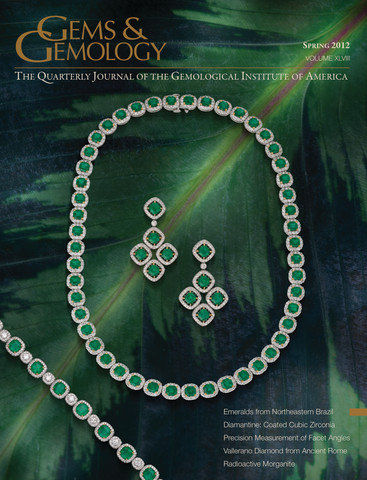 Gems & Gemology, Spring 2012 - iPad screenshots from iTunes

"The interactive and intuitive nature of this app, combined with its portability, makes keeping up with gemology fun and easy," said Jan Iverson, editor-in-chief of G&G. "The print issue will remain, so the iPad app is really an extension of our educational outreach."
Related Forum Topics:

GIA Gems & Gemology Goes Online

Gems & Gemology Winter 2011 article "Determining garnet composition from magnetic susceptibility and other properties"

Books on gems / gemology?