PriceScope's Online Community – Register (Free)
New to diamonds or buying an engagement ring? Our online community is the place to be.
Hello and welcome to PriceScope – the leading diamond discussion forum and community. You may be feeling bewildered that you've just stepped into the world of diamonds, gemstones, and engagement rings and it seems a whole lot more complicated than you anticipated. Don't worry – you're not alone. 
Fortunately, you've found us. If you're new to all this, the best place to go is our online community. Our online community comprises of some very useful and relevant forums. It's the perfect place to get the specific expert-led advice that's tailored to you. Sure, you can lurk and browse the posts, but there's a huge amount to be gained from asking your own questions too.
This guide to the PriceScope community will ensure that you feel confident, informed, and ready to make the right choice about buying diamonds and engagement rings. Join over 109,000 members who are helping each other.
Why a Diamond Forum?
Everyone is mesmerized by diamonds and gemstones. But it's a complicated arena. There is an enormous amount of choice. For those who don't know much about diamonds, beyond a desire to get this expensive purchase 'right', it is overwhelming to walk into. There is terminology that doesn't make sense, and it can seem like everyone else knows what they are talking about.
We created our community for people like you. Yes, it's also a place where experts hang out. But primarily it's a forum for regular people making what may be a once-off jewelry purchase. You can chat with others who've been where you are, as well as experts, and benefit from their insight and knowledge.
You'll get informed in the way you need to be, so that you can buy an engagement ring, or other diamond jewelry, with confidence.
Why use PriceScope?
The harsh reality is that you'll get far more balanced and impartial advice by posting in a forum than you will by walking into a brick-and-mortar store or browsing through a vendor's website. Not only can shopping be clouded by the hard sell, but it's also biased. 
In the community, you can get advice from experts in the trade who aren't working for one individual store. Therefore their advice can be trusted more easily. What's more, you benefit from hearing from others just like yourself and learning from their experiences. 
By using PriceScope, you'll be ready to make an educated purchase. You'll get more bang for your buck, and you'll get what you're looking for, and potentially more. Often our users report that, with help from other PriceScopers, they've found something better value or something which better fits their needs. 
About this Guide
This guide to the PriceScope community covers:
How to register as a newbie so that you can post and comment

Tips on how to get the most out of PriceScope

Which areas of the forum are best suited to you, according to your needs, as well as how to use these forums

How to post a new thread
How to use PriceScope as a newbie?
For newbies, there are a few main areas of the forum you'll want to know about. With over 4 million messages on 253,000 threads, you need to know where to start.
While you're welcome to lurk, you'll get the most from the community by starting your own thread. To do this, you need to complete the registration process. It's simple, anonymous, and free.
How to register?
On the top right corner of the homepage, click 'Register':

Next, complete your basic registration details. Once completed, click the 'Register' button at the end of the form: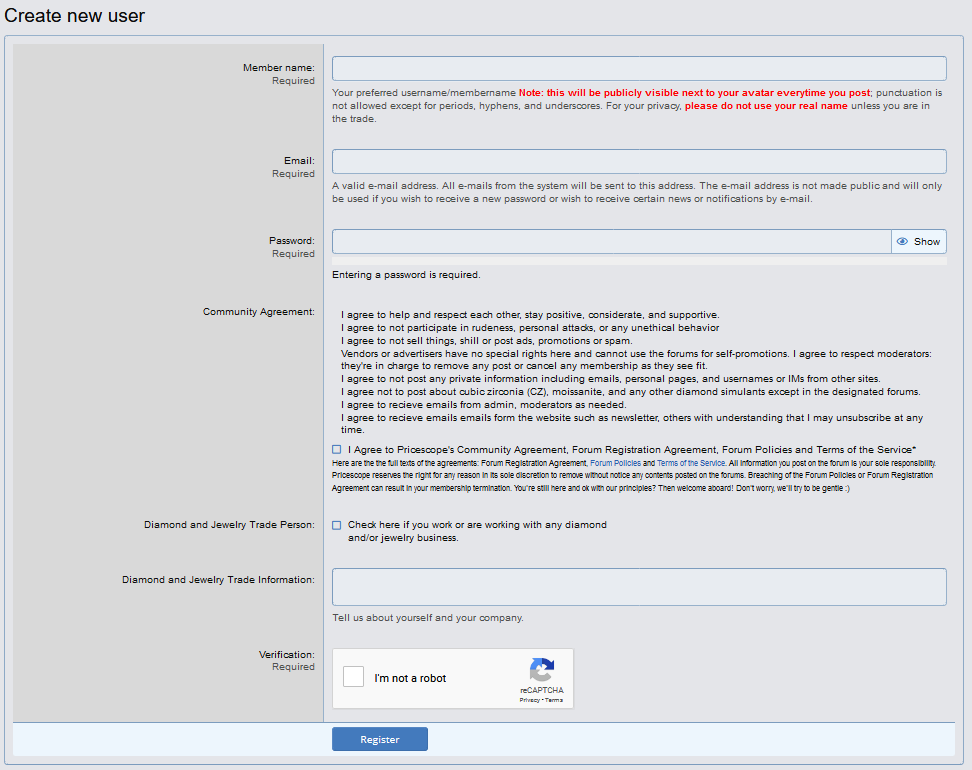 You will then need to go to your inbox, to the email from us, and click to confirm your account:

You'll receive a welcome email from us, and be ready to start your new journey as a PriceScoper.
Getting started at PriceScope
The PriceScope community has 4 main sections:
Each of these sections is further divided into more specific forums. Next, we'll walk you through which sections you want to start in, and which forums will be best suited to you. So that you can get the most out of joining PriceScope, this guide is split into different sections according to what you're looking for. We reveal how different people will get the best out of the community:
The soon-to-propose individual who wants to buy the ring in advance

The soon-to-propose individual who wants ideas on how to make the proposal special

The recently engaged who want to choose a ring together

Those who want opinions on a specific ring, diamond, or piece of jewelry

Those considering buying antique or vintage jewelry

Other newbie starting points
Before we give specific guidance to each group, we have some tips about how to get the best from your PriceScope experience.
Get the most from PriceScope
We spoke to PriceScopers, including experts and non-experts, to get their advice on how best to get what you need from the forum. Here are our top tips:
Be honest

: No one expects you to know about diamonds like you know about cars or tech. By asking questions, you can feel much more confident. You're not alone by being new to this, many of our trusted members started right where you are now.

Be direct

: Ask questions and you'll get much more tailored advice. You can gain some information by lurking, but you'll get the real detail you need by starting your own thread. By starting your own thread, and posting your own questions, you'll open up opportunities and possibilities you hadn't considered before.

Be specific

: When you ask a question or start a thread, be as detailed as you can be. The more background you can provide, the more useful the advice you receive will be. E.g. if you can post details about budget, you'll be given very on point advice. Your story helps readers get to know you and offer advice and guidance that pays off.

Be inquisitive

: If you're not sure, ask! Use follow up questions and even ask other users what information would help them to give you better advice.

Be authentic:

Experts are willing to help and give their advice for free for those individuals who are genuine.

Be responsive:

Users are very willing to engage with newbies, but they quickly stop if you don't respond. A quick word of thanks, or some follow-up discussion, will ensure they stay engaged with your thread.
1. The soon-to-propose individual who wants to buy the ring in advance
If you're getting prepared to propose, with a ring in hand, then you're our kind of person. Most of the newbies in the forum are people just like you.
You will want to start out by having a quick read of the FAQ board. This is found in the Diamonds and Jewelry section, at the bottom: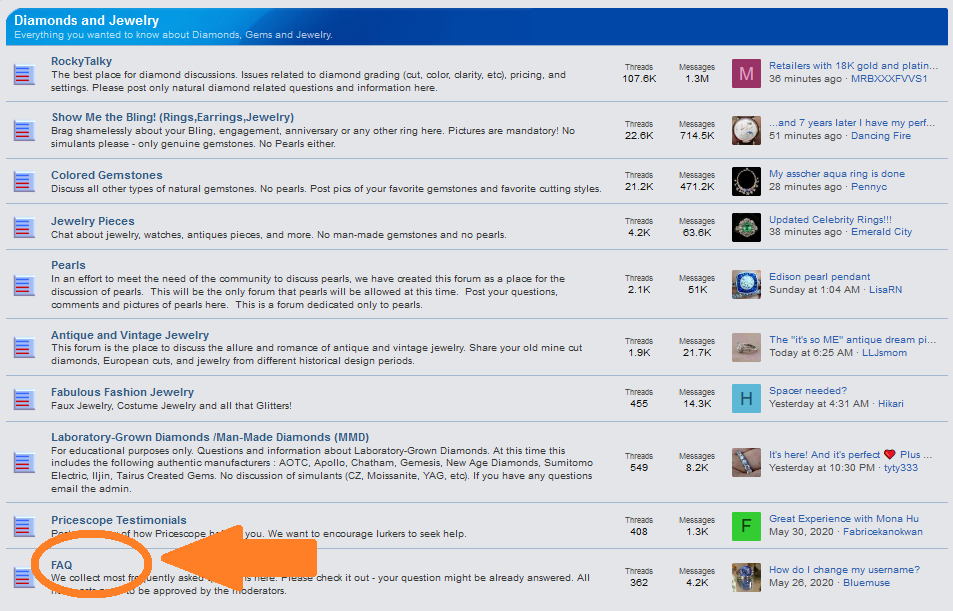 On the FAQ board, you'll find some posts are 'pinned'. This means that these posts are kept at the top of the board, even when new posts are added. This is done because these pinned posts offer enormous value and so they are easy to find. 
We suggest you have a quick look at these pinned posts, particularly paying attention to the thread called 'acronyms/abbreviations/slang used on forums'. This isn't just useful for those new to PriceScope, but also for those new to diamond terminology.
Then, head back to the Diamonds and Jewelry section and go to Rocky Talky. This is where you will want to spend most of your time: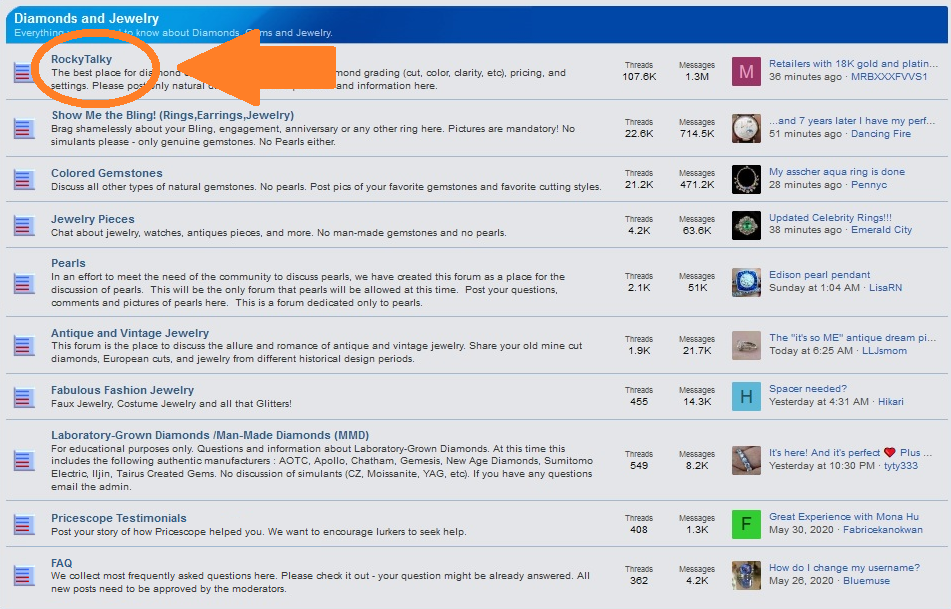 In the Rocky Talky forum, you'll find three pinned posts which you will find useful to look at before you start:

You may by now already have a little more information about what you want to ask, or find out. The best way to get the information that's tailored for you is to start a thread. At the end of this guide, we provide a step-by-step walk through on how to start a thread.
2. The soon-to-propose individual who wants ideas on how to make the proposal special
If you are getting ready to propose, you are probably feeling a little apprehensive about making this moment special and memorable. PriceScopers have lots of ideas and advice to share.
The best place for you to start is in the Proposals, Weddings and More section:

Head straight into the Proposal Ideas forum:

You'll see that there are lots of people posting about their proposal ideas. You can have a read through these threads and see if they inspire you. However, you'll get the best tailored information if you start your own thread. At the end of this guide we provide step-by-step guidance on how to start your own thread.
You'll soon discover just how important the ring is as part of your proposal plans. Head over to the Rocky Talky forum to ask your questions about diamond engagement rings.
3. The recently engaged who want to choose a ring together
If you are a couple and want to choose a ring together, then you'll benefit from some pointers. You may have already started looking and discovered that it can be a very confusing decision. 
The best place for you to start is in the forum Rocky Talky which is found in the Diamonds and Jewelry section of the community: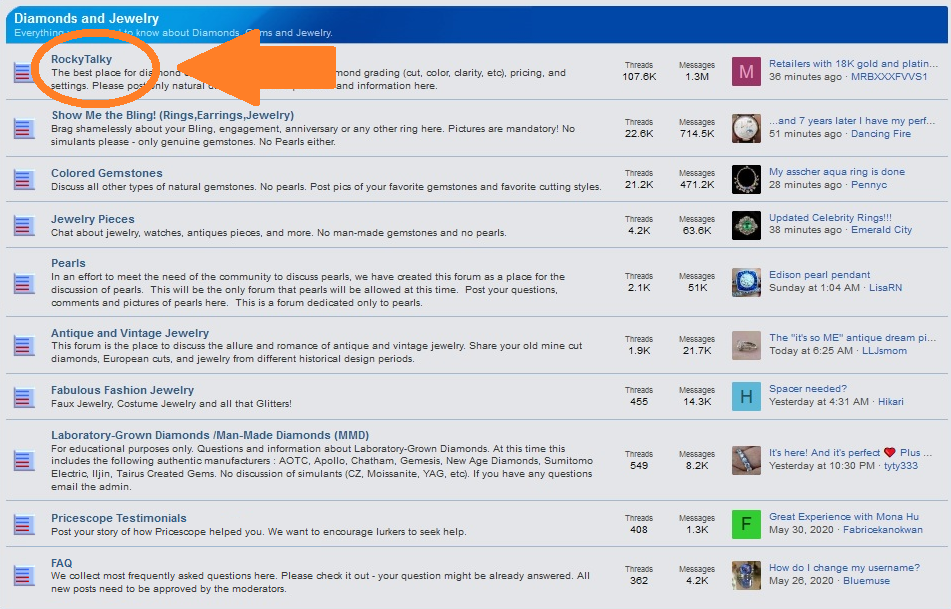 You will find it particularly useful to visit the pinned post which will show you the most helpful threads on the board:

Although you may find it useful to read and 'lurk' on some of the threads, you'll have the best experience of the forum by posting your own thread. Follow the step-by-step advice at the end of this guide on how to do this.
4. Those who want opinions on a specific ring, diamond, or piece of jewelry
If you've already started your research and been browsing rings, it's a good idea to get the opinion of others before you part with your cash. Many experts are on our forums and have a talent for finding a better quality ring for less or making your budget stretch further. By listening to them, you can be sure that you'll make the right decision.
In your case, you're already in a good position. By identifying rings you like the look of, PriceScopers get brilliant insight into your style and preferences. They'll then be able to let you know whether you've found an excellent choice, or point you in the right direction, keeping your style preferences in mind.
The best forum for you to start on is Rocky Talky which is part of the Diamonds and Jewelry section: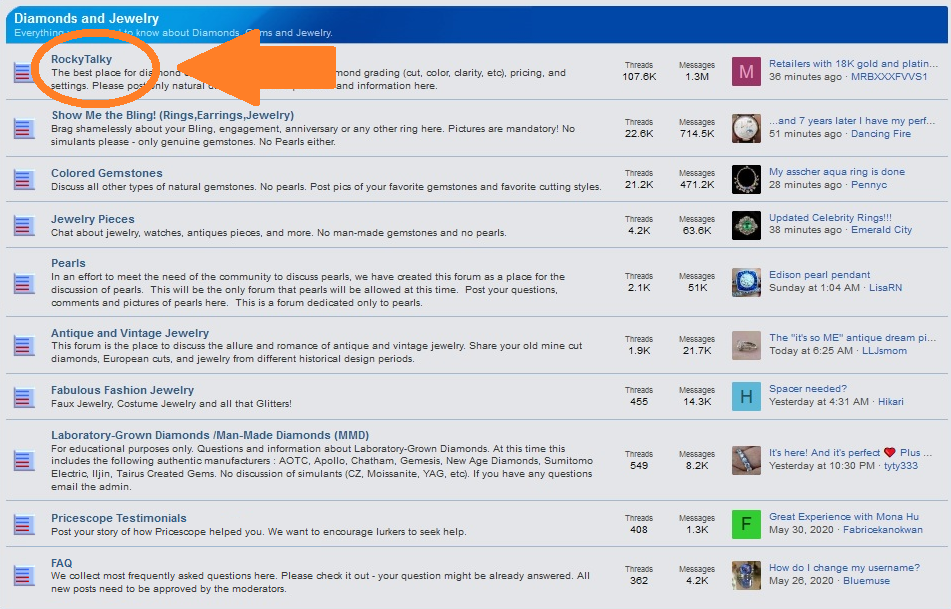 You'll need to start your own thread to get tailored advice on the ideas we have. Follow the steps at the end of this guide on how to do this. Make sure you post a link to the ring and/or your own photos. Read the thread on 'How to take good photos of diamonds' to help you get started.
If you have specific vendors in mind, then we highly recommend you spend some time on the PriceScope Testimonials forum found in the Diamonds and Jewelry section. Here users share their experiences, which can really help you make an informed choice: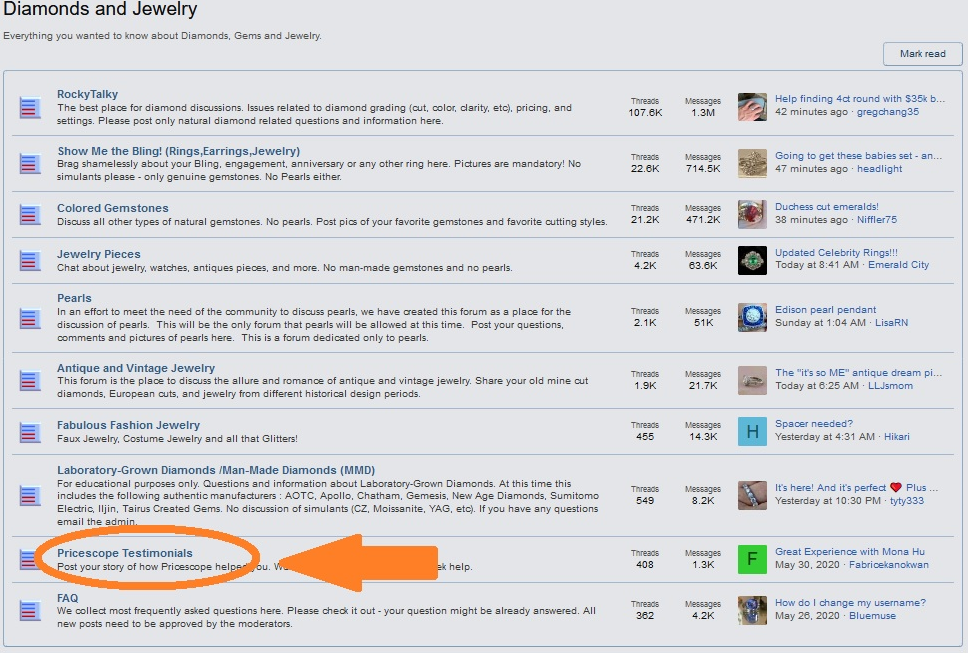 If you simply want to show off a ring you've bought and received a ton of admiration, then head over to Show Me The Bling! forum where you'll have lots of jewelry lovers sharing your excitement.
5. Those considering buying antique or vintage jewelry
Increasingly popular are those who want to buy antique or vintage jewelry, or reproducing pieces which fit this fashion trend. 
The best place for you to start on the community is in the forum called Antique and Vintage Jewelry which is part of the Diamonds and Jewelry section: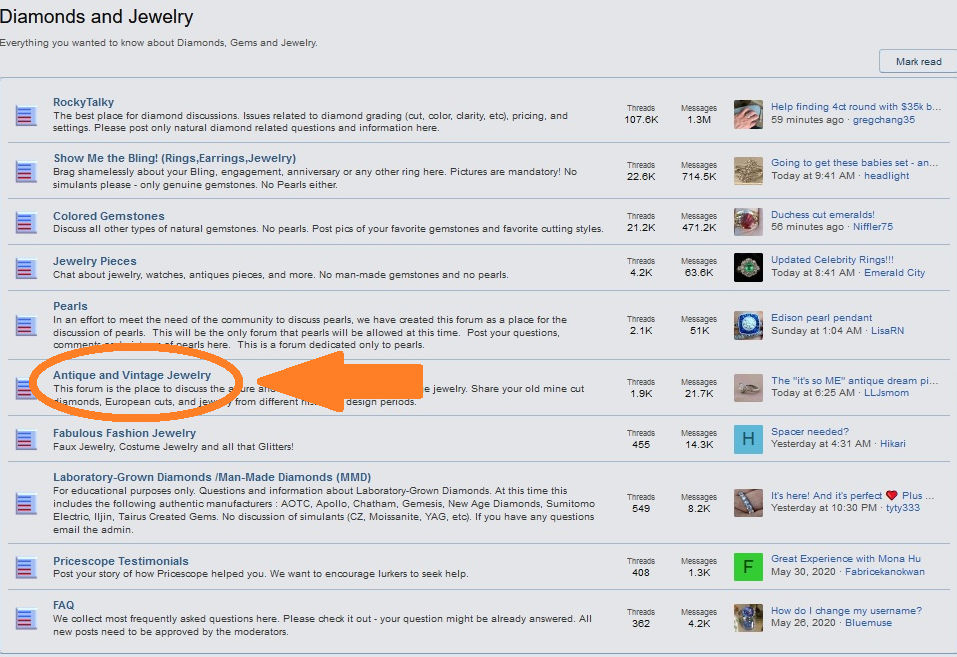 There are two pinned posts at the top of this board which are both good places to start. These threads are called 'Show us your Antique/Vintage and Reproduction Rings!' which is great for inspiration, and then the 'Vendor List for Antique, Vintage and Repo Jewelry' which is a good place to look for vendors:

However, you'll get personal advice if you post your own thread. Many leading vendors work with designers who use vintage designs for inspiration. Experts on our forums can point you in the direction of ideal reproduction or vintage-styled rings. You'll find step-by-step guidance on how to start your own thread at the end of this guide.
6. Other newbie starting points
If you don't fit into any of the categories above, don't worry! There are still plenty of sections of the community which will suit you as a starting place. Here are some suggestions:
If you want to talk about and learn about jewelry, then these forums from the Diamond and Jewelry section will help:
It's impossible to have a diamond forum without having a whole section dedicated to proposals and weddings! We know you're excited, and this is the perfect place to hang out, share ideas, and get inspiration. You may find the following boards a good place to start:
Proposal Ideas

: The perfect place to be for shaping or dreaming about the most romantic proposal.

Ladies in Waiting

: If you think your partner is planning something, you've spotted a ring, or you simply can't wait for him to get down on one knee, this is the place you can contain your excitement or salve your waiting wounds!

Bride World Wide and Grooms Grooves

: The place to come and hang out and chat about upcoming ceremonies and celebrations.
The PriceScope Café is a great place to come and get to know everyone better. You can introduce yourself on the Who's Who board, if you wish as well as learn more about our regular PriceScopers.
How to start a thread? 
The best way to get the most tailored advice, whatever the topic, is to create your own thread. Here we explain how to do that.
Click on 'Post thread' on the top right of the board in which you want to post e.g. Rocky Talky: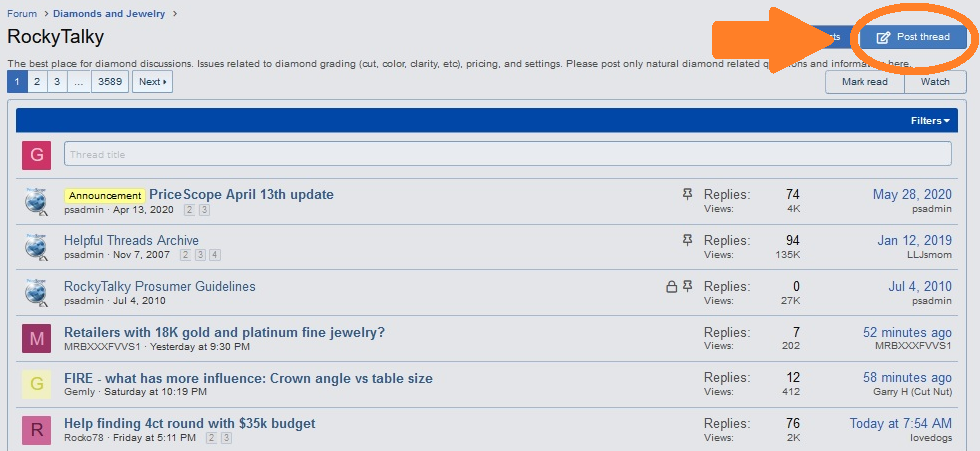 Enter the title of your thread. It can be a question, or more generic: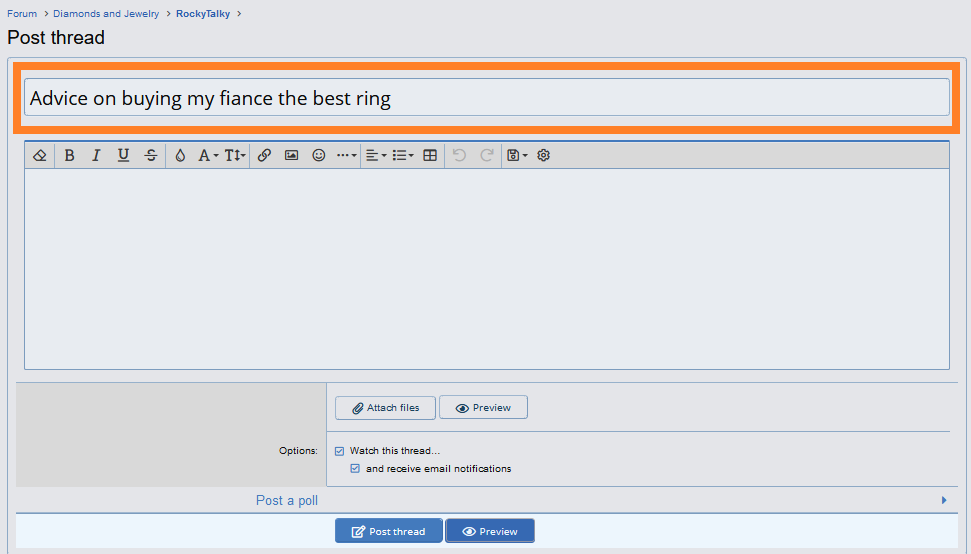 Complete the body of your thread. Give as much information as you can, but remember that forum users can also ask you questions for clarity if they need to: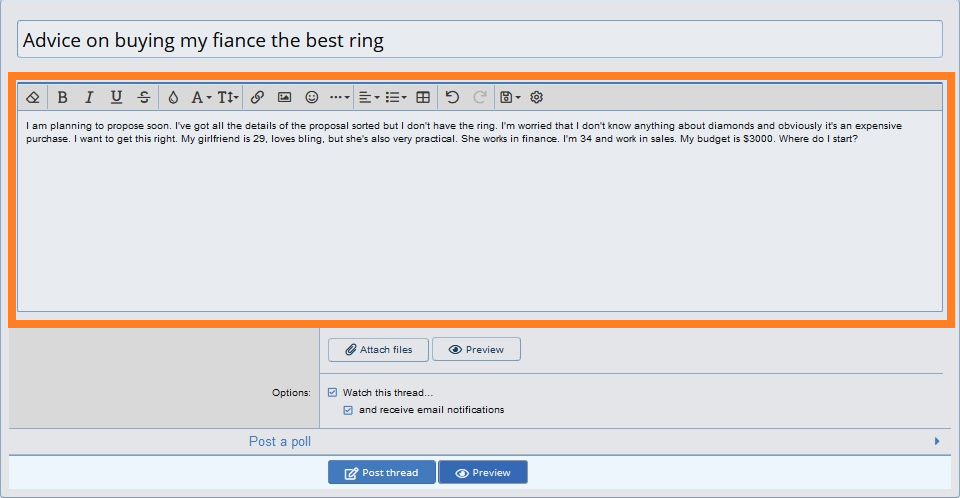 You can also attach files to your thread; perhaps if you have images you want to share. We suggest that you leave the boxes checked to 'watch this thread' and 'receive email notifications'. This will help you keep track of responses. 
Finally, click 'Post thread':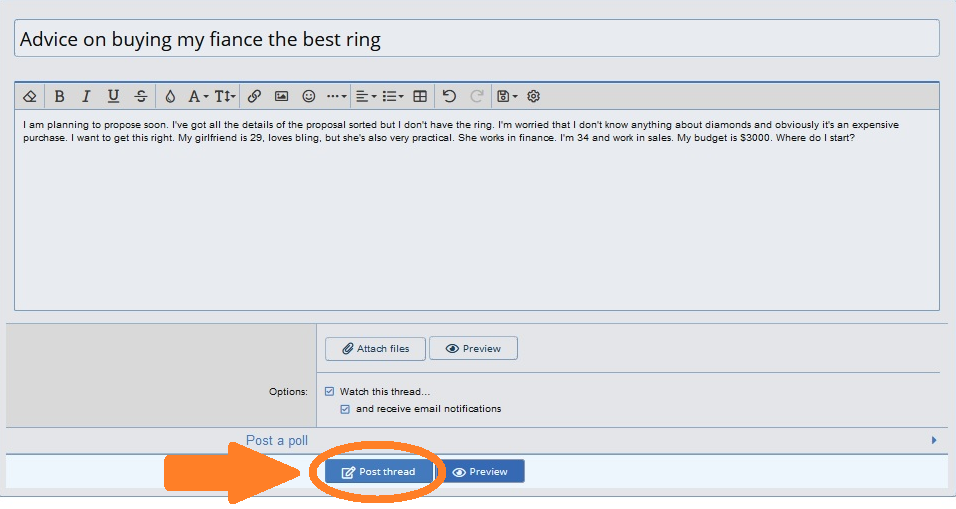 Your thread is now live. You can now wait for users to respond. Keep an eye on your thread, so that you can answer questions and get the most from the people who contribute.
Ideas for Good Starter Threads
If you're not sure what to post on your first time, here are some common suggestions:
It's time to go and get started! We are sure you'll love our community and find it useful. In no time you'll feel at home and far from a newbie. You'll then probably find yourself posting and answering threads about anything and everything on the Hangout forum in the PriceScope Café.
We hope that this beginner's guide on How to use the PriceScope Community has been useful. To our PriceScopers, thank you for your continuous support, and to our new members- Welcome! If you haven't registered yet – What are you waiting for? Click the link.