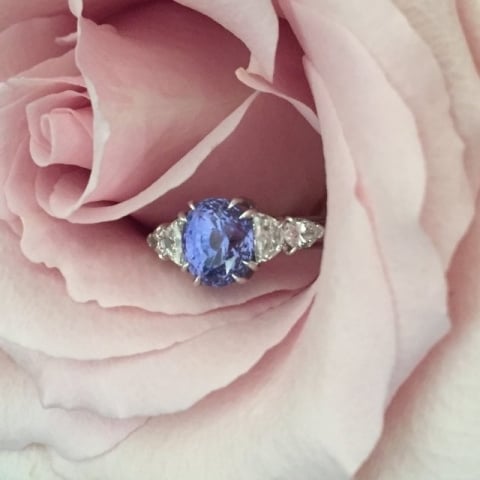 Royalstarrynights's Violet 2.56 ct Color Shifting Sapphire Ring
Royalstarrynights created this violet 2.56 ct color shifting sapphire ring in a Steven Kirsch 5 stone trellis made from 950 platinum. The sapphire was sourced from Joe Escobar. The .32 tcw G/VS half moons and .27 tcw pear was sourced from Steven Kirsch
Royalstarrynights's Violet 2.56 ct Color Shifting Sapphire Ring Side View
Royalstarrynights, it seems like a long but definitely a worth while journey. This violet color sapphire gem and setting are beautiful.
Looking forward to seeing the hand pictures too. Click here to visit the forum thread and read all about the rings journey .
Thank you, everyone, for sharing your gorgeous jewelry in the Show Me the Bling forum! Can't wait to see more!
#JOTW