Raise your hand if you love the Olympics! The 2012 London Summer Games open tomorrow, July 27. Visitors from around the globe will watch the world's best athletes compete to win the ultimate symbol of victory, an Olympic medal. So, how are the medals made? In the following video, CNN's Jim Boulden visits the Royal Mint, where the 4,700 medals were produced for the Olympic and Paralympic Games.
Visit London 2012 for the schedule and a countdown to the opening ceremonies.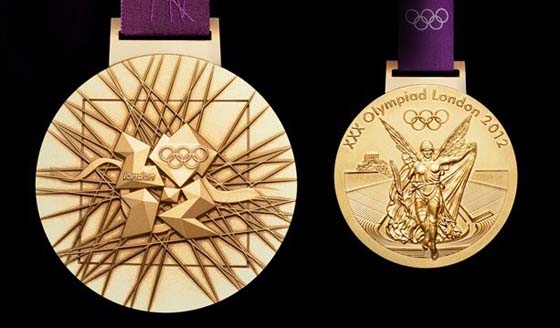 Image: London 2012
The Olympic medals are the largest and heaviest in the history of the Summer Games. The gold medal, which is actually silver with gold plating, weighs 400 grams and measures 85mm in diameter. The medals feature Nike, the winged goddess of victory who represents the spirit of the Games, on the front side. The reverse, designed by David Watkins, features the London 2012 Olympics logo.
The metal was provided by Rio Tinto, which mined the gold, silver, and copper near Salt Lake City at the Kennecott Utah Copper Mine and in Mongolia at the Oyu Tolgoi site. Visit Rio Tinto to learn more about the metals used in the London 2012 Olympic medals.
Related Topics:
Are You Ready for Some Super Bowl Rings?