By Erika W.
Pittsburgh Steelers vs. Green Bay Packers – Sunday, February 6, 2011
Bring on the Big, Heavy, and Blingy Super Bowl Rings! The collectible NFL award rings get more diamond encrusted by the year, as seen in this selection of notable rings from games past. Massive and rife with symbolism, the rings often feature marquise cut diamonds, which resemble what else? Footballs!
Pittsburgh Steelers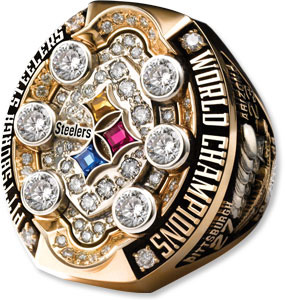 Pittsburgh Steelers Game XLIII Super Bowl Ring
jostens
Pittsburgh's massive diamond Super Bowl ring features bezel set diamonds around the team's colorful logo. The Steelers beat the Arizona Cardinals 27- 23 in 2009's Game XLIII.
Green Bay Packers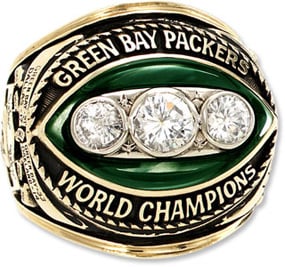 Green Bay Packers Game II Super Bowl Ring
jostens
Green Bay's Super Bowl ring from their Game II win in 1968 features a trio of round diamonds. Green Bay beat the Oakland Raiders 33 – 14.
New Orleans Saints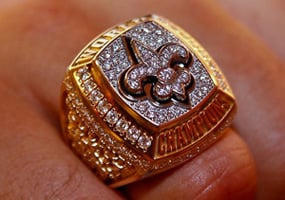 New Orleans Saints Game XLIV Super Bowl Ring
Derick Hingle
The Saints' diamond fleur de lis Super Bowl ring is one of our favorites. The team won Game XLIV in 2010 against the Indianapolis Colts, 31 – 17.
Kansas City Chiefs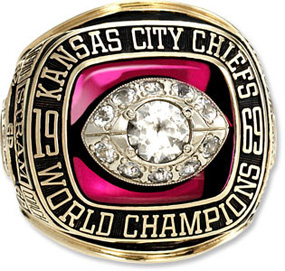 Kansas City Chiefs Game IV Super Bowl Ring
jostens
Kansas City crushed the Minnesota Vikings in 1970's game IV, 23 – 7. The classic diamond Super Bowl ring features a diamond with a football shaped "halo."
Indianapolis Colts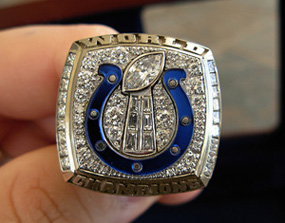 Indianapolis Colts Game XLI Super Bowl Ring
USA Today
In 2007 the Colts beat the Chicago Bears 29 – 17 in Game XLI. The bold Super Bowl ring is set with a whole host of diamond shapes from princess cuts to baguettes. Blingy indeed!
New England Patriots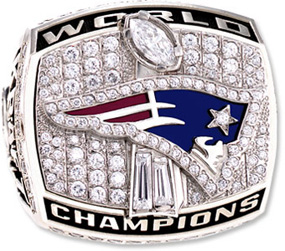 New England Patriots Game XXXVI Super Bowl Ring
jostens
The Patriots scored this massive NFL award ring in 2002 for their win against the St. Louis Rams, 20 – 17.
Dallas Cowboys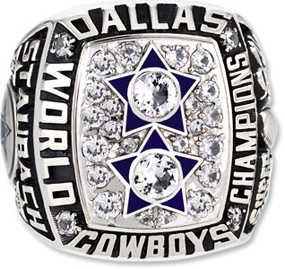 Dallas Cowboys Game XII Super Bowl Ring
jostens
In 1978 The Dallas Cowboys beat the Denver Broncos, 27 – 10. The Super Bowl ring from Game XII features diamonds set in the blue stars of Texas.
Related Threads:
ARE YOU READY FOR SOME FOOTBALL !!!! 2010 – 2011
Help please? Your football knowledge appreciated!
Have a favorite Super Bowl ring? Show us! Show Me the Bling!