Dreamer_dachsie originally posted this phenomenal diamond baby ring on the Show Me the Bling forum at PriceScope.  Baby rings are such a lovely way to mark the introduction of a new tiny person to the family. I wish I had gotten one to mark the birth of my own daughter, because the sentiment is so beautiful, and hello…new jewelry is always a bonus!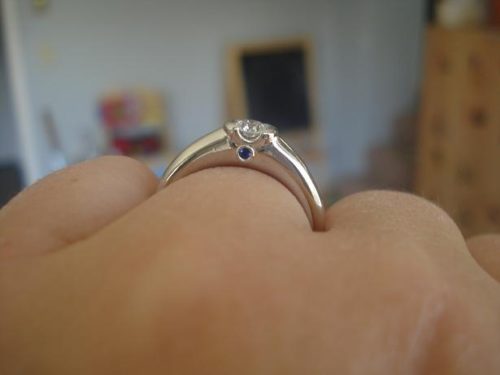 Dreamer_dachsie did her research and fell in love with the incredible customer service at Whiteflash, but that is not the route that she ended up going. She found this stunner on Ebay of all places at an unbelievable price, which leaves her some jewelry budget money to head back to WF and get something else. Yay, expanding the jewelry budget while still getting the fabulous bling!
Celebrating her Son is magnificent, and she linked the ring that she had for celebrating her first son as well, so we get to enjoy not only her marvelous milestones but her glorious jewelry as well!
Baby gifts are also sometimes called "push presents", From Wikipedia- "A push present (also called a push gift) is a present a partner gives to the birthing mother to mark the occasion of her giving birth to their child. In practice the present may be given before or after the birth, or even in the delivery room. " I love this practice!
The Stats:
It is a platinum semi bezel design with a .31ct G VS2 ideally proportioned diamond
On Throwback Thursdays, we celebrate beautiful pieces that have been shared over the years!
Thank you so much for sharing your jewelry experiences with us. Keep revisiting PriceScope's past with us each Thursday!
#TBT
Come show off YOUR fantastic bling with fellow jewelry lovers and trade professionals
Learn more about Fancy Cut Diamonds Shapes on PriceScope