Joelly posted this breathtaking Octavia 3 stone ring the Show Me the Bling forum at PriceScope. This ring is absolutely stunning! Joelly always wanted one and we LOVE to see jewelry dreams come true!
The Octavia cut was created by our very own Karl K .  This diamond was cut by Yoram Finkelstein, of Gem Concepts. Optimizing the angles of step cut diamonds, the Octavia cut has brilliance and more fire and light play than many standard Asschers and/or Emeralds.
From Gem Concepts, on The Peruzzi Diamond: "The Peruzzi Diamond ™ is a wonderful new recreation of what literature identifies as the first brilliant cut developed by 17th. Century Venetian lapidary Vincenzo Peruzzi is a masterpiece of its own. Using present technologies available we had the pleasure to re-design such a unique & classic brilliant shape while adding our own proportions formula to achieve the play of light this unique cut offers.
The Peruzzi Diamond ™ enjoys most light environments and offers slow events of very large flashes of colorful fire and white light return. Its contrast is derived from its slender corner facet shapes and from the transformation of primary direct light return to reflected secondary light return when in movement"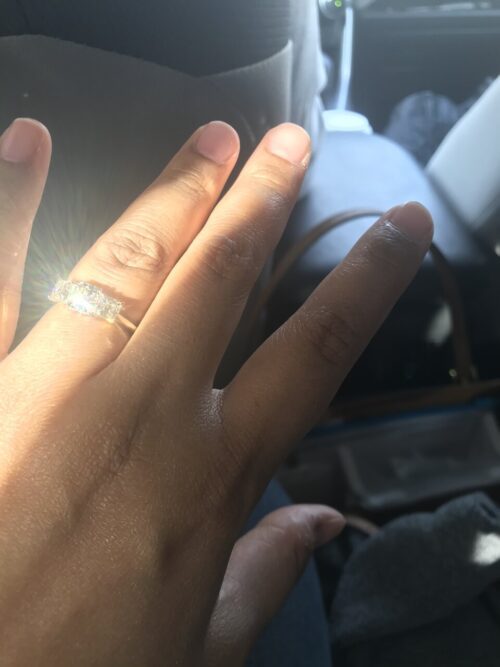 It's no wonder that Joelly was dreaming of an Octavia, this ring a is a beautiful testament to her patience. She is also celebrating having a sweet new baby girl just 5 months ago! Congratulations on both new additions, Joelly. The sweet beautiful girl, and a fabulous ring too! We are going to need more pics! <3
The Stats:
Marquise:
Octavia is 1.22 ct, E, and VS clarity. The side stones are peruzzi 4.5mm each side.
Visit the original post with more pics and join me in congratulating Joelly!
The Jewel of the Week is our chance to feature and appreciate a recently posted piece from the Show Me the Bling Community!
Thank you so much for sharing your jewelry experiences with us. We look forward to seeing more!
#JOTW
Come show off YOUR fantastic bling with fellow jewelry lovers and trade professionals
Learn more about Ideal-Scopes on PriceScope!