Sunnybopeep originally posted this heart shaped engagement ring on the Show Me the Bling Forum on PriceScope.  The heart shaped diamond might not be for everyone, but this is a stunning example of why many love them! We always love an engagement as well!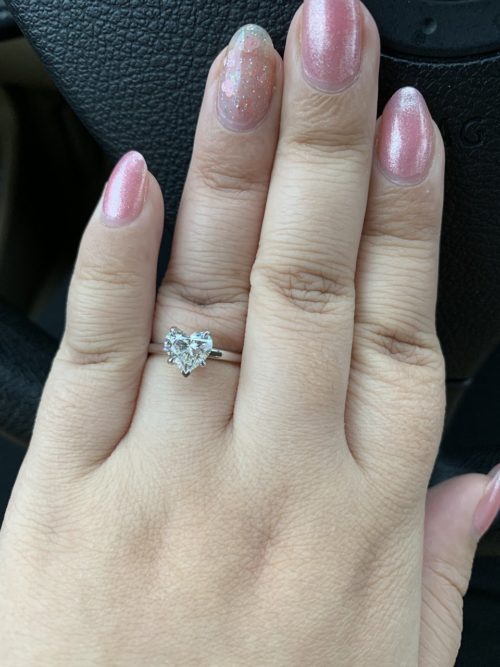 Sunnybopeep has long desired a heart shaped diamond engagement ring, for reasons that are her own as well as loving them! Her fiance knocked it out of the park and really paid attention to what she was looking for.  Per Vogue Magazine: "Perhaps the sweetest of all ring cuts, rocking a heart-shaped engagement ring is a bold choice. This is definitely not an engagement ring cut you see everyday, and the women who gravitate toward it tend to stand out in a crowd."
The Stats:

From Sunnybopeep: "I believe the stone is a 1.51 ct I color SI2, but it's incredibly clear and sparkly! I've tried really hard to try and find the inclusions that were marked on the GIA appraisal, but I haven't been able to find them yet."
Congratulations! We are so excited for you and your fiance, thank you for sharing with us! Your ring is fabulous!
Go see the post with more pics, and join me in congratulating Sunnybopeep!!
The Jewel of the Week is our chance to feature and appreciate a recently posted piece from the Show Me the Bling Community!
Thank you so much for sharing your jewelry experiences with us. We look forward to seeing more!
#JOTW
Come show off YOUR fantastic bling with fellow jewelry lovers and trade professionals
Come learn more about Heart Shaped Diamonds at PriceScope