Heart Cut Diamonds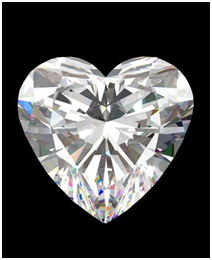 Heart shaped diamonds are brilliant cuts with curved lobes that stem from a centered cleft.  The lobes slope down to form a sharp point.  The preferred length to width ratio for Hearts is 1:1.
**Visit Heart Cut Diamond Prices for the latest retail diamond price statistics.
Special Characteristics of Heart Cut Diamonds
Color can be more visible in Hearts, especially in the lobe areas. Hearts may also show a bow tie. A bow tie is a dark area across the center width of many fancy shapes—a result of varying pavilion angles. Bow ties show as light return that is blocked by the head of the viewer.  Fancy shapes like Ovals, Marquises, Hearts, and Pears will have bow ties of varying degrees, and it is best to avoid excessively deep or shallow stones.  Look for hearts with balanced and symmetrical proportions.  A defined cleft with even lobes and a sharp point are generally preferred.
Size Matters
Hearts look similar in size to Round Brilliants from the "face up" position, but inconsistent proportions can lead to differences in relative sizes.  In general, Hearts face up well for their carat weight.
Basic Heart Cut Guidelines courtesy of http://www.gemappraisers.com/
CUT CLASSES
Class 1A
Class 1B
Class 2A
Class 2B
Class 3A
Class 3B
Class 4A
Class 4B

Ideal cut

Premium cut

International fine trade cut

US domestic average cut

below average

Table %

55-60%

53-61.5%

52-62%

51-64%

51-67%

49-70%

48-72%

>72%
<48%

Crown Height %

12-15%

11.5-16%

11-16.6%

10.1-17.5%

9-18%

8.3-18.9%

7.8-19.5%

<7.8%
>19.5%

Girdle thickness
Word descriptions and percentages.

V. Thin to Sl. Thick
(0.4%-4.5%) or
Thin to Thick (1%-5.5%)

V.Thin to Thick(0.4%-5.5%)

Very Thin to Very Thick
(0.4% to 7.0%)

Extremely thin to
Extremely thick
(0.0% to >7.0%)

Total Depth %

59.0-63.0%

63.1-65.4%

56-68.5%

46-71%

43-73%

>73%
< 43%

Length:Width Ratios
Trade preferences.
A matter of personal taste and choice.

Pear 1.50-1.75
Marquise 1.75-2.25
Heart 0.98-1.02
Oval 1.33-1.66

1.26-1.99
1.51-2.49
1.24-0.91
1.26-1.74


> Class 3 < Class 3

Polish/Symmetry
Not a primary determining factor.

Excellent to Good

Good or Fair

Poor to Fair
CUT CLASSES
Class 1A

Ideal cut

Table %

55-60%

Crown Height %

12-15%

Girdle thickness

Word descriptions and percentages.

V. Thin to Sl. Thick

(0.4%-4.5%) or

Thin to Thick (1%-5.5%)

Total Depth %

59.0-63.0%

Length:Width Ratios

Trade preferences.
A matter of personal taste and choice.

Pear 1.50-1.75

Marquise 1.75-2.25

Heart 0.98-1.02

Oval 1.33-1.66

Polish/Symmetry

Not a primary determining factor.

Excellent to Good

CUT CLASSES
Class 1B

Premium cut

Table %

53-61.5%

Crown Height %

11.5-16%

Girdle thickness

Word descriptions and percentages.

V. Thin to Sl. Thick

(0.4%-4.5%) or

Thin to Thick (1%-5.5%)

Total Depth %

59.0-63.0%

Length:Width Ratios

Trade preferences.
A matter of personal taste and choice.

Pear 1.50-1.75

Marquise 1.75-2.25

Heart 0.98-1.02

Oval 1.33-1.66

Polish/Symmetry

Not a primary determining factor.

Excellent to Good

CUT CLASSES
Class 2A

International fine trade cut

Table %

52-62%

Crown Height %

11-16.6%

Girdle thickness

Word descriptions and percentages.

V. Thin to Sl. Thick

(0.4%-4.5%) or

Thin to Thick (1%-5.5%)

Total Depth %

59.0-63.0%

Length:Width Ratios

Trade preferences.
A matter of personal taste and choice.

Pear 1.50-1.75

Marquise 1.75-2.25

Heart 0.98-1.02

Oval 1.33-1.66

Polish/Symmetry

Not a primary determining factor.

Excellent to Good

CUT CLASSES
Class 2B

International fine trade cut

Table %

51-64%

Crown Height %

10.1-17.5%

Girdle thickness

Word descriptions and percentages.

V.Thin to Thick(0.4%-5.5%)

Total Depth %

63.1-65.4%

Length:Width Ratios

Trade preferences.
A matter of personal taste and choice.

Pear 1.50-1.75

Marquise 1.75-2.25

Heart 0.98-1.02

Oval 1.33-1.66

Polish/Symmetry

Not a primary determining factor.

Excellent to Good

CUT CLASSES
Class 3A

US domestic average cut

Table %

51-67%

Crown Height %

9-18%

Girdle thickness

Word descriptions and percentages.

Very Thin to Very Thick

(0.4% to 7.0%)

Total Depth %

56-68.5%

Length:Width Ratios

Trade preferences.
A matter of personal taste and choice.

1.26-1.99

1.51-2.49

1.24-0.91

1.26-1.74

Polish/Symmetry

Not a primary determining factor.

Good or Fair

CUT CLASSES
Class 3B

US domestic average cut

Table %

49-70%

Crown Height %

8.3-18.9%

Girdle thickness

Word descriptions and percentages.

Very Thin to Very Thick

(0.4% to 7.0%)

Total Depth %

46-71%

Length:Width Ratios

Trade preferences.
A matter of personal taste and choice.

1.26-1.99

1.51-2.49

1.24-0.91

1.26-1.74

Polish/Symmetry

Not a primary determining factor.

Good or Fair

CUT CLASSES
Class 4A

below average

Table %

48-72%

Crown Height %

7.8-19.5%

Girdle thickness

Word descriptions and percentages.

Extremely thin to

Extremely thick

(0.0% to >7.0%)

Total Depth %

43-73%

Length:Width Ratios

Trade preferences.
A matter of personal taste and choice.

> Class 3 < Class 3

Polish/Symmetry

Not a primary determining factor.

Poor to Fair

CUT CLASSES
Class 4B

below average

Table %

>72%

<48%

Crown Height %

<7.8%

>19.5%

Girdle thickness

Word descriptions and percentages.

Extremely thin to

Extremely thick

(0.0% to >7.0%)

Total Depth %

>73%

< 43%

Length:Width Ratios

Trade preferences.
A matter of personal taste and choice.

> Class 3 < Class 3

Polish/Symmetry

Not a primary determining factor.

Poor to Fair
Courtesy of D.S. Atlas, Accredited Gem Appraisers, © AGA 1998-2004
Heart Cuts posted on Pricescope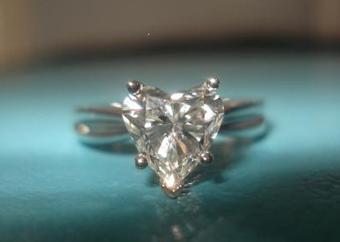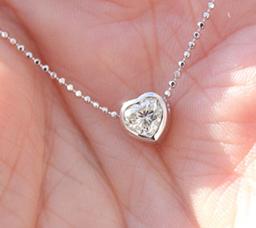 Posted by daibay                                                     Posted by blinkydoll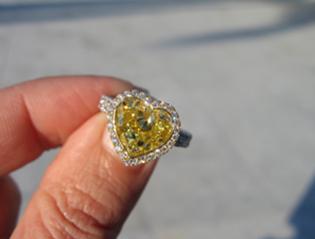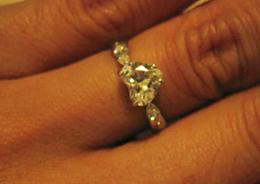 Posted by didiamond                                            Posted by KittyTiger
Threads with pictures of Heart Cuts
https://www.pricescope.com/forum/rockytalky/helpful-threads-archive-t53703.html
Threads discussing Heart Cut Quality
https://www.pricescope.com/forum/rockytalky/helpful-threads-archive-t109220.html
https://www.pricescope.com/forum/rockytalky/helpful-threads-archive-t63771.html
Next Diamond Tutorial: Trillion Cut Diamonds »