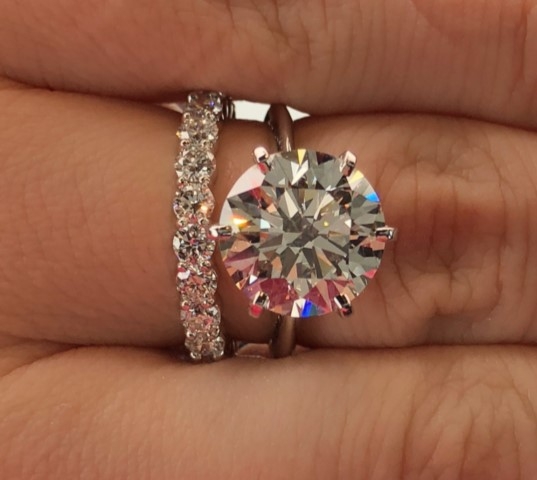 Delectable Diamond Collection for Teslagirl1234!
Teslagirl1234 shared this phenomenal Diamond Jewelry Collection on the Show Me The Bling Community at PriceScope.com. Beware, lest you be blinded by the intense bling! This collection is home to several incredible pieces, and as she posted in the title of the post she is grateful; and we are grateful that she shared!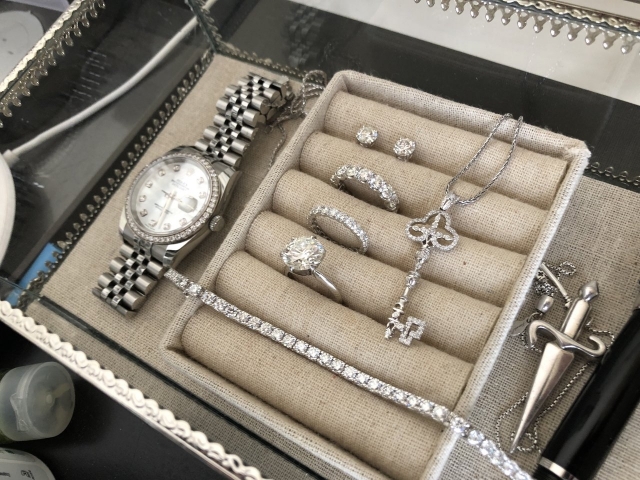 Look at that awesomeness
Her items include:
5.08 VS1 J Medium fluorescence ring that is almost super ideal or super ideal. Compared with 2 separate 5 ct hearts on fire, I couldn't see the difference.
4.8 ctw eternity band custom made with ideal diamonds J color
1.8 ctw eternity band custom made with diamonds I took from heart pendant I wasn't wearing VS2-SI2s but all look crystal clear and sparkly.
2.18 ctw earrings Ideal J color. Might be closer to super ideal, maybe someone can tell me what they think of the proportions. Will upgrade to larger one day. Had 2.8 ctw pair but traded them toward ring upgrade and the 2.18 are better proportions.
0.7 ctw Diamond belly button ring custom made
0.80 vvs2 J diamond solitaire pendant.
Key pendant with little diamonds.
Custom tiny tragus piercing diamond earring.
Diamond Rolex watch purchased last year with mother of pearl face. 36 I think. Jubillee bracelet.
And most recent purchase from Costco 7 ct VS2 I color bracelet in white gold that I absolutely adore.
Whew! That's just fabulous! Congratulation on this magnificent collection, may you treasure it for ages to come!
Go see the post with more pics! Follow me to the bling!
The Jewel of the Week is our chance to feature and appreciate a recently posted piece from the Show Me the Bling Community!
Thank you so much for sharing your jewelry experiences with us. We look forward to seeing more!
#JOTW
Do you know your basic engagement ring anatomy? Learn more about engagement rings, here.
Come show off YOUR fantastic bling with fellow jewelry lovers and trade professionals in the Show Me the Bling Community, here.