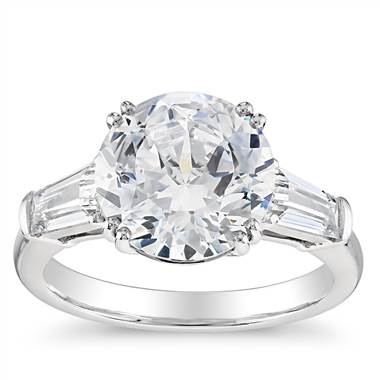 April Birthstone: Diamond
Oh, oh, oh are we excited to talk about birthstones this month?! Why you ask? Because it's all about diamonds! You read that right, April's birthstone is the diamond and if you have ever wished for a reason to talk and look at diamonds more than you already do, your wish is our command.
Diamond, the Versatile Stone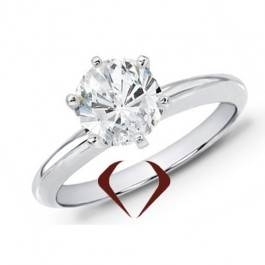 Round diamond solitaire ring set in 14K white gold

at I.D.Jewelry
Diamonds are extremely versatile because it is the hardest gemstone on Earth. Its resiliency enables it to hold up in "high-contact" pieces like rings and bracelets and manage to look just as good 10 years later as it did on the day you purchased it. A word of caution, just because the diamond is resilient, doesn't mean the setting is just as resilient, so be sure to treat all of your diamond jewelry with kid gloves, lest you find yourself asking them to replace that diamond stone you love so much
Pricey Unless You Know How to Shop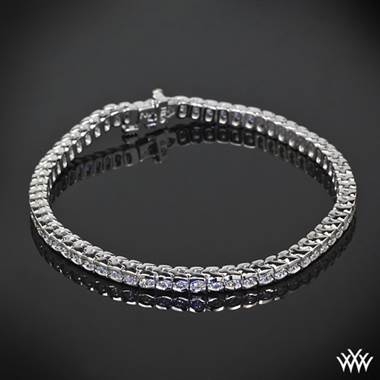 Half bezel diamond tennis bracelet with a 42 Cut Above diamond melee

at Whiteflash
We all know that diamond prices can increase to eye-watering prices. But every savvy PriceScoper knows just how to find that diamond for a cut rate price. You have your heart set on a one carat, brilliant cut round diamond, but not the price tag. Well, have no fear and ask to see that same diamond in .98 carats. Still out of your price range? Then opt for a halo setting on a smaller stone. Halo settings are popular at every price point and size, so you can get a half carat diamond in a halo setting that will look nearly as large as a one carat diamond. That is, unless you want to shell out some major cash for a 10 carat stunner.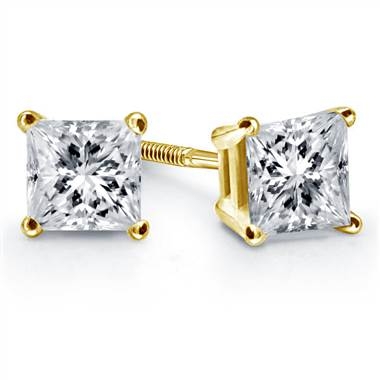 Prong set princess diamond stud earrings set in 14K yellow gold

at B2C Jewels
Diamonds were thought to have healing powers in the ancient world, not surprising considering that we sure feel better when we put some diamonds on. Diamond interest increased dramatically in the past century and many companies and people went through unscrupulous methods to mine for diamonds. Fortunately, many major companies and countries have implemented process to ensure that consumers are purchasing conflict-free diamonds. If you're unsure about a diamond's origin, most knowledgeable salespeople will fill you in on the stone's origin. You can even go an addition step and seek out jewelers and jewelry stores that only purchase conflict-free diamonds
Now, aren't these diamonds just the right thing to cheer you up from these drab April showers (and snows)? This month's birthstone is the Rolls Royce of gemstones and will make you stop traffic, regardless of your birth month.

By PS Staff
Source:American Gem Society