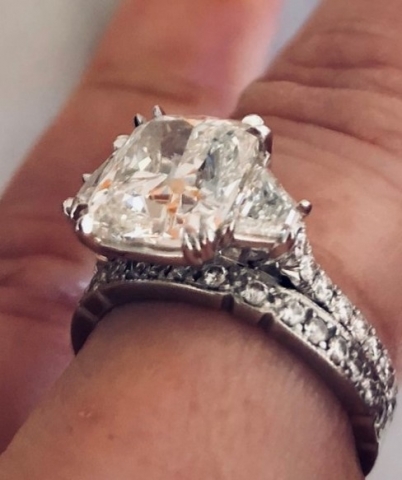 Beautiful Custom Cushion With Traps Upgrade for AceP
AceP shared this amazing Engagement Ring on the Show Me The Bling Community at PriceScope.com. Yes! Engagement ring upgrades are such a great way to mark the years together! I love that you can still celebrate your partnership's launch while still getting to scratch that shrinking diamond syndrome shopping itch!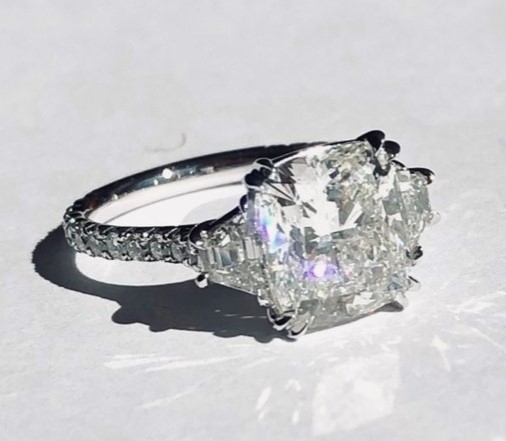 Another stunner from Brilliantly Engaged
Lots of us know the feeling of wanting a little more bling, a little bigger sparkle factor to flash around and enjoy! Just talking about it has me looking at the PS Search! This must be BE week for me, because the tbt was Mark T, and here we are with another fabulous piece from Brilliantly Engaged! A testament to the skill and taste that comes from BE, to be sure! Well done, AceP, this is glorious!
The Stats:
2.7 4-main modern cushion
Color: H
Clarity: VS1
Step-cut trap sidestones totaling .40
Go see the post with more pics! Follow me to the bling!
The Jewel of the Week is our chance to feature and appreciate a recently posted piece from the Show Me the Bling Community!
Thank you so much for sharing your jewelry experiences with us. We look forward to seeing more!
#JOTW
Do you know your basic engagement ring anatomy? Learn more about engagement rings, here.
Come show off YOUR fantastic bling with fellow jewelry lovers and trade professionals in the Show Me the Bling Community, here.