Spotlight on Meghan Markle's Engagement Ring
The last Monday in November, we woke up to the UK's worst kept secret, that Prince Harry and Meghan Markle were engaged. As of last Friday, people were speculating that an official announcement was imminent, but until the palace made the announcement, there was always a little bit of doubt that it was true. But now another American is set to marry into the British royal family and we're excited.
Meghan Markle may be adding an HRH to her name in a few months, but at the end of the day, she is another excited bride-to-be ready to show her engagement ring off to the world. And show it off she did!
Her ring was on full display when she and Harry sat down for their engagement interview. That is when we were able to get a clear look at her ring, and it is a beauty!
Prince Harry was always known to push the bounds of tradition which is why he settled for a ring which was the perfect balance between tradition and modern. Keep on reading to discover more about Meghan Markle's engagement ring and how you can get her ring right on time for a holiday engagement!
Meghan Markle Engagement Ring
Center Stone: 2.5 ct. Cushion cut
Side Stones: Round diamonds once belonging to Princess Diana
Setting: Yellow gold; side stones set in white gold
Price: Undisclosed, but estimates say $135,000 USD
Steal Her Style
Imitation is the sincerest form of flattery, so why not grab an engagement ring inspired by Ms. Markle?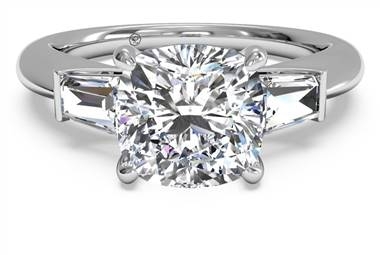 Tapered baguette diamond engagement ring set in 14K white gold

at Ritani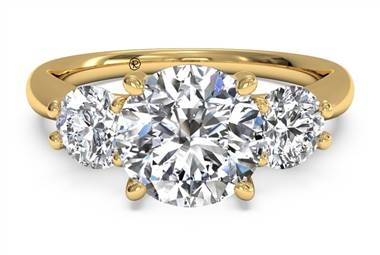 Three stone diamond engagement ring in 18K yellow gold

at Ritani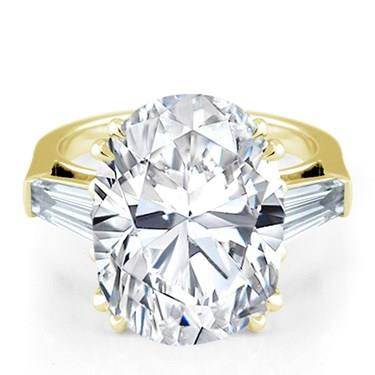 Tapered baguette and cushion three stone setting

at Adiamor
Why do we love Meghan's ring? Because you don't have to marry a prince to wear this look on your finger. Just look at the magical rings we found here at Pricescope.
Now you too can have that Markle sparkle and feel like a princess when you wear one of these engagement rings. So what's everyone waiting for? Let's bring on the royal wedding!

By PS Staff
.