By PS Staff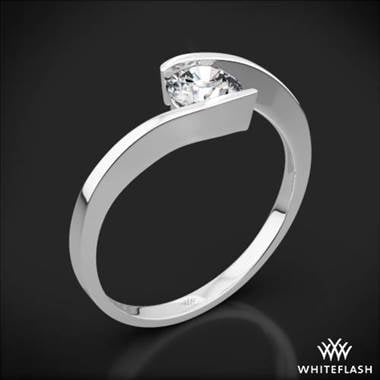 Platinum "Lilly" Tension Setting, $1,495

at Whiteflash
If you have spent any time in our "Jewelry Search," you noticed that you can also find settings from our Featured Sponsors as well. Yet it can be confusing to try to select a setting to match a diamond and vice versa. Creating your ideal ring, or any other piece of jewelry, can seem daunting but not to fear, this is exactly why we are here.
Select Your Stone . . . or Not. It is much easier to have your setting before you decide to select a stone. However, many people inherit vintage jewelry which they then decide to modernize by using a different stone. Although if one selects this option, it is best to take the setting to a jeweler to know what type and size of stone the setting will be able to hold.
It's Not Actually Called a Setting. The actual name of a setting is called a mounting. A mounting is what the jewelry industry calls a setting before the stone has been secured; the setting is securing the stone.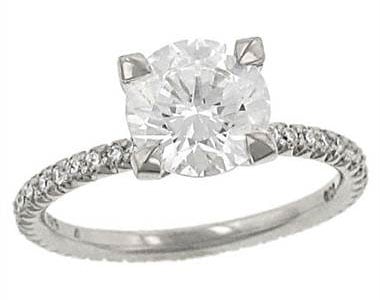 "Petite Princess" Prong Setting, $4,500

at Solomon Brothers
Three Types of Mountings. There are many engagement ring styles from which to find your ideal setting but there are really three ways your stone will be held securely. You will either have to choose from a prong setting, a tension setting or a bezel setting. The remaining setting options, like a halo setting, depend on your personal preferences. However, they will not divert from tension, prong or bezel setting.
Single or Paired? When deciding on your setting, you must take into consideration if you will wear your engagement ring with a wedding band or as a stand alone piece. Fortunately, you can purchase a matching set which will come with an engagement ring setting and a wedding band to take the worry out of making more decisions AND it is usually less expensive; it is more expensive if you purchase individual pieces.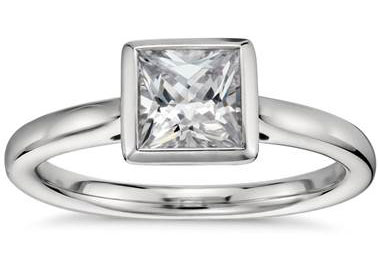 Platinum Princess Cut Bezel Setting, $1,090

at Blue Nile
Lifestyle Matters. It is important to select a setting which will fit well into the wearer's life. For example, active wearers should select a bezel setting. Less active wearers or those who will remove their ring when engaging in athletics can opt to wear a prominent setting to lessen the chances of the ring catching on material or being damaged by hard surfaces.
Finding a setting for a stone does not need to be stressful. When done properly, you can find a great bargain as well as create the jewelry piece of your dream. If you have any questions, our amazing diamond and jewelry community is there to help you . . . just click on link and press "new topic" to fill out your requests/questions!