By PS Staff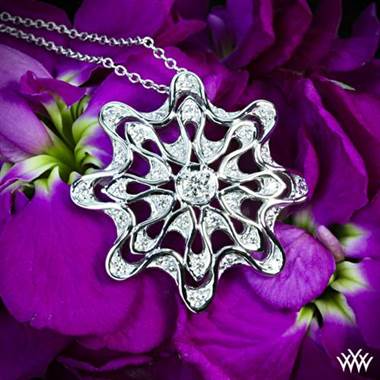 Platinum "Embrace" Diamond Pendant, $2,050

at Whiteflash
The summer is coming at us at lightning speed and we are salivating to try the three styles that you will be seeing on a sidewalk near you. We are attracted to these styles because they flatter nearly everyone and provide a quick update to anyone's wardrobe.
Look #1: Luxury Hair Accessories
Hair accessories are having a big moment this year. None more than metallic accessories AND silk headscarves. If you had any reservations just how big this style is going to be this summer, look no further than the runways. There, designers showcased Art Deco, industrial and jewel-encrusted headbands to add a bit of sparkle to any look. That isn't all however. The 70s are back as well with a gamut of silk headscarves sure to be seen this summer when the temps rise and beach elegance is in full swing.
Look #2: Pendants
Pendants are a refreshing look after being in the throes of statement pieces for what appears to be an indeterminate time. Yet, these aren't your grandmother's pendants. The new pendants don't need to be layered to come off with a bang. Now, we are seeing bigger pendants which can hold their own; no need to layer them. The modern pendants hold their own without needing the usual supporting cast to knock this look out the park.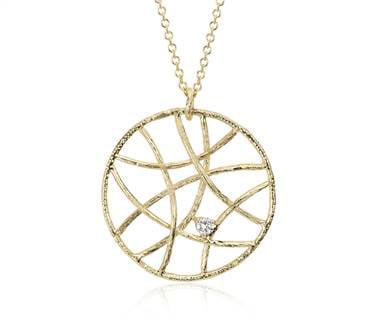 Woven Diamond Pendant, $395

at Blue Nile
Look #3: Big & Beautiful Earrings
Just when you thought statement earrings were over, we're here to tell you that not only did they never go anywhere, but they're bigger than ever before. The new summer style trend will have all of us wearing mixed metal earrings that reach down to your shoulders and have tassels, discs, precious stones or sometimes all three. This look is not for the faint of heart, so if you are dying to wear this fashion this summer, pull your hair back, keep your makeup to a minimum and strut your stuff!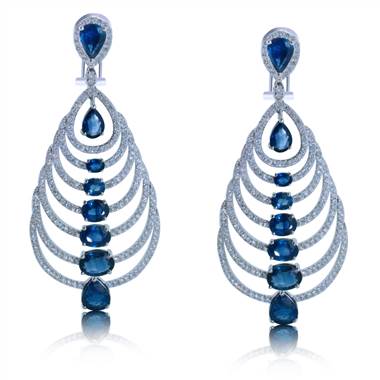 Sapphire and Diamond Chandelier Earrings, $6,895

at I.D. Jewelry
We have to come clean with you. One of the reasons we love these looks is because they elevate your style with one quick addition. Although you can definitely wear the aforementioned pieces with an evening gown, they look quite at home when combined with a simple tee and jeans. Just by adding a silk scarf, a pendant or not-to-be-missed earrings and you get a wardrobe upgrade for a fraction of the cost.
Visit our "Resources >> Jewelry Search" to browse for your favorite pendant and/or earrings. Which styles are you?