Doctorlady99 originally posted her fabulous WF Round Brilliant Engagement Ring on the Show Me the Bling forum at PriceScope.  Classic and beautiful, this ring is magnificent, and the story that comes with it will sweep you away!
Getting proposed to at a childhood favorite restaurant surrounded by family with this glorious ring, that is so swoon worthy! There is a reason that the round brilliant solitaire is such classic, it stands the test of time. This is now about 10 years old, and I hope that it has been as wonderful as it's beginning! Whiteflash did a magnificent job creating something that will bring a lifetime of happiness!
The Stats:
GIA
7.41-7.42×4.52 mm
1.52 carat round brilliant
I
SI1
Cut Grade: Ex
Polish: Ex
Symmetry: Ex
Flourescence: Medium Blue
Depth: 61.1%
Table: 57.6%
Crown Angle: 33.6
Pavillion Angle: 40.8
Culet: None
Girdle: Medium (faceted)
HCA: 1.0 (within TIC range)
Ex-Ex-Ex-Very Good (Spread)
Visit the original post with more pics and join me in congratulating Doctorlady99!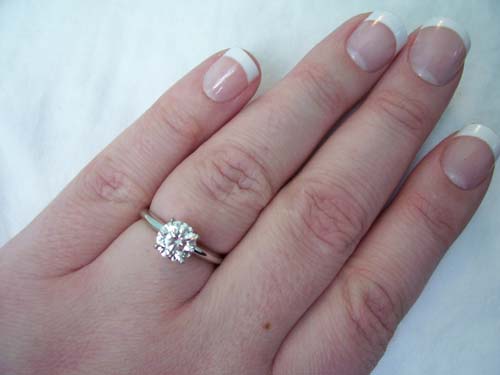 On Throwback Thursdays, we celebrate beautiful pieces that have been shared over the years!
Thank you so much for sharing your jewelry experiences with us. Keep revisiting PriceScope's past with us each Thursday!
#TBT
Come show off YOUR fantastic bling with fellow jewelry lovers and trade professionals
Learn more about engagement ring mount styles from PriceScope